Microsoft Power Apps gives companies of all sizes the ability to quickly and easily create custom apps with little to no coding experience. Depending on the type of app you need, you'll have the ability to drag and drop components, customize visuals, and create an attractive on-brand design.
However, not all Power Apps are created equal. There are three types of Power Apps, and each is best suited for a different goal and need. Some are great for working with complex data and business logic, while others are better for creating a customizable and aesthetically pleasing user experience. No matter your company's needs, developing a custom Power App will take its capabilities to the next level.
The Three Types of Power Apps
The Power Platform is a cloud-based platform that includes Power BI, Power Automate, Power Virtual Agent, and Power Apps. All three types of Power Apps offer users the ability to quickly build enterprise-level solutions for your company, allowing you to develop out-of-the-box business apps that directly solve a concern unique to your organization.
The three apps are designed to solve different types of common business problems and can modify, update, and retrieve records from varying data sources.
The three types of Power Apps include:
Canvas apps
Model-driven apps
Portal apps
Since Power Apps is cloud-based, it offers enhanced security features like multi-factor authentication and form-level security. Any app built through Power Apps can seamlessly integrate with any other Power Platform product and work natively with Dataverse or other third party data sources.
Let's look at how each of these three apps can be customized to meet your business's needs.
Canvas Apps
Process-driven Canvas apps are part of the original Power Apps package. They allow you to drag and drop elements directly onto your blank canvas and build a custom app. Each component's size and formatting can be easily adjusted as you go, and this format is usually best suited for simple user interfaces.
Many companies choose Canvas apps because they are very user-friendly. Anyone with a basic understanding of Excel and PowerPoint can design a Canvas app, as there is no need to assess and build out data structures for full functionality
When comparing Canvas apps vs Model-driven apps, you'll find that Canvas app can pull data from more than 200 data integration sources, providing much more flexibility than Model-driven apps. However, your chosen data sources must already be in production to integrate with the app.
While the Canvas app design allows you more freedom for visual customizations, it has limited capabilities around complex data logic. The best use-cases for Canvas apps include:
Checklist
Estimator
Time Tracker
Site Inspection
HR Q&A
Model-Driven Apps
Model-driven apps are newer than Canvas apps and are based on data explicitly stored in the Dataverse. Components can be somewhat customized and edited, but these apps are more rigid in design and only allow users to build with pre-made components based on integrated data.
While still relatively easy to set up and create, Model-driven apps are more sophisticated than Canvas apps. They are a better option for solutions that require complex business logic.
Model-driven apps are optimal for complex applications, but are limited in their capabilities to customize visuals and design. The best use-cases for Model-driven apps include:
Human resources information systems (HRIS)
Asset tracking system
Portal Apps
A Portal Power App is an external-facing website that allows users outside of an organization to access, view, and create data within the app. This type of app is often used to create simple websites that can be easily utilized by external users. If needed, Portal apps can be embedded within a Model-driven app.
Portal apps are also built on top of the Dataverse's "Common Data Service," and require an environment with a database. They offer a comprehensive content management system from the get-go that can fit all devices. Portal apps are an excellent platform for webpages, offering a user-friendly interface to edit or add portal pages using editing apps like Portal Management.
Situations that are well-suited for Portal apps include:
Employee self-service portal
Community portal
IT help desk portal
Booking pages
Customer support portal
Custom Power App Examples
These three types of Power Apps allow a wide range of customizations. Here are three custom Power App examples to get a better idea of which solutions can work for different businesses.
Canvas App Example
This customized solution was built for a client to manage billions of dollars' worth of capital expenditures and process approvals. You can view the status, restrict access through user permissions, and track the approval process (where projects are, in what stage, who has approved what, who you are waiting on, etc.). This solution also allows users to easily visualize requests and track progress within the chain of command.
A major advantage of Canvas apps is their custom look and feel. They aren't well suited for dealing with complex data, since they aren't responsive by design. You can make Canvas apps respond by manually adjusting each individual component, but this can become a tedious process.
Model-Driven App Example
Our developers created a unique CRM system called the CRM Micro-Accelerator. Built using a Model-driven app, our team included built-in capabilities only possible with this style.
You can see that this solution offers standard features, but also allows you to add custom buttons and controls. This CRM solution includes easily customizable dashboards, an activities tracker, account and contact management, and leads and opportunities management. It's mobile-ready and has powerful search capabilities. The CRM accelerator integrates with the full suite of Microsoft 365 business apps, so users benefit from the power and flexibility of SharePoint, Outlook, Teams, and Power BI.
Users tend to choose Model-driven apps because they can handle data-rich scenarios. However, their more rigid design makes customization more difficult.
Portal App Example
Portals are an optimal tool for any business that needs outside users to access their site. This example is a student portal solution that our developers created for an educational institution. The app sends invites to help new users set up their portal profile. Then, users can easily view their academic pages, see which classes they're signed up for, manage their courses, and take other actions.
Portal apps can be quite complex to build, but are extremely reliable and secure once properly set-up. For example, American Airlines' flight booking and travel planning website is actually a Power Apps Portal with powerful external user capabilities.
The primary advantage of Portal apps is allowing limited outside user access while remaining visually appealing and on-brand.
No one Power App is better than another, and each one can complement a range of business processes. Many enterprises build on these apps by working with a Microsoft consultant or developer who can help create uniquely tailored solutions to your organization's exact needs.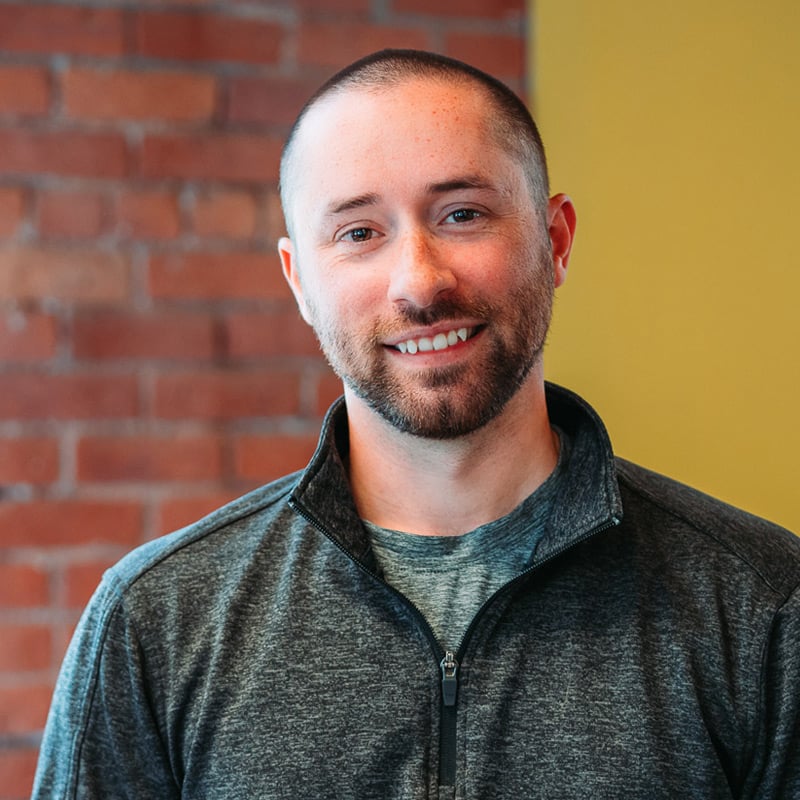 Bernie Thibeault
After dedicating six years to us, Bernie has left Aerie. He first joined on the business development side but found his true calling as a Solution Engineer for Dynamics 365 and the Power Platform. Bernie had become our go-to resource for these solutions and made a significant impact while at Aerie. We're grateful for his contributions and wish him all the best in his future endeavors.