Accelerated Intranet


Work smarter, not harder with SharePoint.

Share and manage content, knowledge, and applications to empower teamwork, quickly find information, and seamlessly collaborate across the organization with a company intranet.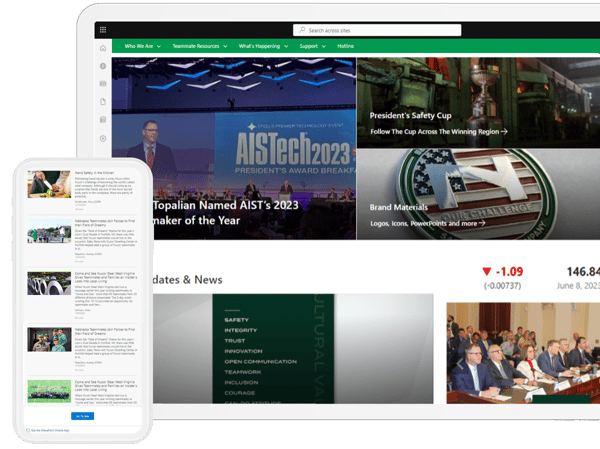 Your company may be complicated, but
your Intranet doesn't have to be
At Aerie, we've developed company intranets for large and small organizations for over a decade. Over the years we have met fantastic, smart people who were intimidated at the prospect of setting up a new corporate intranet and it became our mission to simplify & accelerate the process.
Like many enterprise resources, an intranet is an iterative solution that expands and adapts over time to meet new business challenges, provides operational value & increases employee engagement across your entire company. The most important aspect of any modern intranet is to lay a foundation that supports expansion over time.
Styled and built for you
Branding / Design
Create modern layouts derived from Microsoft's Look Book
Apply custom theming specific to your company culture & branding
Automate company branding and themes for any newly created sites
Intranet software coding
Integrate Department and Team site templates for consolidated news and document sharing
Launch responsive, mobile-friendly pages
Incorporate functionality for cross-site searching
Generate company People Directory
"With our new Aerie Accelerated Intranet we have improved operational efficiency, safeguarded our digital and physical assets and surpassed revenue goals. People no longer look at the platform and say, 'I wish we could do this.' Instead, they ask, 'Can we do this?' It's a big difference."
"We feel like a more unified organization. Things sprout up on SharePoint we didn't see before. People start projects on their own. They get to a certain point, and Aerie helps them refine the process and get the most out of the tool."
"The social connections our employees made from our Aerie Intranet meant the site's return on investment literally happened on day one."
Planful, technical design
Information Architecture
Plan and finalize information architecture and the relationship between SharePoint Hub Sites and Team Sites.
Document Storage
Recommend structure for storing documents across SharePoint, OneDrive, and Teams.
Security Requirements
Identify security requirements needed to ensure all content has the correct permissions throughout the intranet website.
We need a new Intranet!
Book a meeting to learn how Aerie can set you up with a brand-new Intranet.
Training and Adoption
Integration
Determine integration opportunities within Microsoft Teams
Create a People Directory to enable finding people across your organization
Identify apps to improve user experience (e.g., employee directory, performance measurement apps)
Workshops
Ensure long-term sustainability and encourage employees to use the digital workplace to the highest ability with Site Administration workshops
Train staff on how and when to freshen content and design on the intranet site during Content Manager workshops

Unlock Possibility
Get in touch with one of our experts today to explore the best solution for your business.