CRM Micro Accelerator


Set up your CRM in days, not months.

A CRM solution can help your organization deliver an exceptional customer experience, but who has the time to set it up? We do.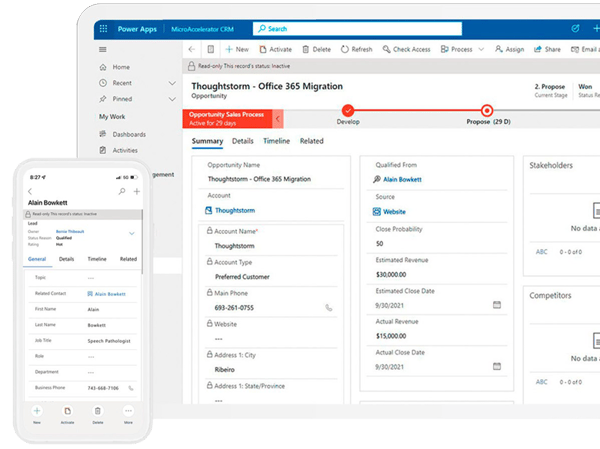 Boost sales with power platform automation
Built on the Power Platform, our CRM, or customer relationship management, functions as an integrated, data-driven software solution that enables businesses to effectively manage, track and store customer-related information. This centralized system provides businesses with the necessary insights to make informed decisions at any given moment. Without a CRM solution, your organization may not be able to optimize operational processes, leading to missed growth opportunities and a decline in potential revenue generation by not maximizing customer relationships and sales leads.
Now, getting started on your CRM is fast and easy with Aerie's CRM Micro-Accelerator.
Aerie CRM Micro-Accelerator features:
Simple, Pre-Built Dashboards
Manage Leads & Opportunities
Customer Service Automation
Plug and play capabilities customized for your brand
Built on the Microsoft Power Platform, our CRM is designed for effortless implementation with pre-built features that can be easily customized to fit your brand.
It seamlessly integrates with your workflow to increase productivity and performance.
Streamlined learning process: no more wasting time
Your team can skip the steep learning curve and dive right into managing customer information.
Our platform delivers organized, accessible insights about your contacts, companies, actions, and timelines, ensuring your team can focus on driving revenue.
"Aerie's CRM Micro-Accelerator has significantly improved our operational processes for managing our customer relationships. Our organization has multiple programs with hundreds of contacts that overlap in complex ways, and the CRM enables us to make accurate, timely and informed decisions with ease while tracking participation hours and changes over time."
Enhanced sales pipeline: accurate insights at your fingertips
Make it easy to gain control of your sales pipeline by provided fresh insights into activities, leads, opportunities, and your business process flow.
This newfound clarity empowers your team to close deals more efficiently, leading to increased profits and improved customer experiences.
Reporting and integration capabilities: unmatched versatility
Streamline reporting with a range of pre-built options and integrate seamlessly with the full suite of Microsoft 365 business apps. Giving you access to essential tools like SharePoint, Outlook, Teams, and Power BI.
As a result, you can expect to improve your workflow and performance with unmatched versatility.

Unlock Possibility
Get in touch with one of our experts today to explore the best solution for your business.