SharePoint Services


Powering productivity

Effortlessly distribute and control content, knowledge, and applications to boost teamwork, swiftly locate data, and enable smooth collaboration throughout your organization.
Supercharge your team with SharePoint consultants
SharePoint is more than a tool - it's a productivity game-changer, enabling real-time collaboration and document management from anywhere.

Our nimble yet experienced Microsoft Sharepoint consultant team at Aerie offers personalized, agile solutions that match those of larger firms. Ready to transform your operations with SharePoint? Partner with Aerie today. Let's write your success story together.
Custom solutions for your business
We believe that every business is unique, and so should its SharePoint implementation. Our SharePoint intranet experts will work closely with you to understand your specific needs and goals.
From there, we'll customize your SharePoint environment, from user permissions to integrating M365 apps, Teams, Office 365, and more.
Check out our work with Subaru
Learn how we improved their corporate SharePoint Accelerated Intranet.
Seamless site migrations
Migrating to a SharePoint document management system involves planning, preparation, and execution. It starts with an inventory of existing content, followed by creating a migration plan. Then, files are organized, workflows set up, and security settings configured.
The actual migration moves the content to SharePoint. After migration, the new site is tested and users are trained. With Aerie's proper tools and guidance, the transition to SharePoint or the customization of an existing Sharepoint environment can be successful.
"With our new Aerie Accelerated Intranet we have improved operational efficiency, safeguarded our digital and physical assets and surpassed revenue goals. People no longer look at the platform and say, 'I wish we could do this.' Instead, they ask, 'Can we do this?' It's a big difference."
Expected outcomes from Aerie's SharePoint Services
Expert Guidance and Support
Get guidance from seasoned professionals.
Let SharePoint become integral to your operations.
With Aerie, you gain more than a service - you gain a partner.
Safe, Secure, and Compliant
We assist in configuring your security settings.
Your data stays secure and compliant with us.
Aerie offers more than just security - we offer assurance.
Experience the Aerie Difference
Committed to excellence? So are we.
Leverage our expertise for productivity and growth.
Aerie adds a personal touch to every solution.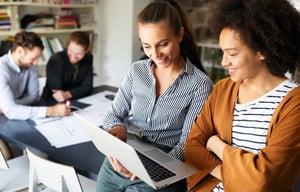 Unlock Possibility
Get in touch with one of our representatives today and get the best solution for your business.