Now, more than ever, businesses are seeking ways to support their remote workforce and improve the overall employee experience. Your organization might be doing the same, whether it's because you want to retain the workers you have, attract new talent, or just make things run more smoothly.

If that's the case, these tools can help you get the ball rolling as you improve your employees' digital experience.
What Do We Mean By "Digital Employee Experience?"
The digital employee experience (DEX) is just part of what your organization already knows is important. Everything from clear communication and training to an inclusive work environment with growth opportunities falls under the umbrella of the "employee experience." Any software tools that you use to provide and optimize these processes for your employees are what make up the digital employee experience.
If you've ever been frustrated by finicky technology as you tried to collaborate online, video conference, or get up to speed at a new position, then you know the importance of a good DEX. Microsoft is a leader in the digital employee experience industry, and their suite of tools aims to help both employers and employees increase productivity and prioritize work-life balance.
Best Digital Experience Tools from Microsoft
Yammer
Yammer is an "enterprise social network" with an interface similar to LinkedIn. However, its scale is smaller–your social circle on the app is made up of coworkers, company leaders, and communicators or educators with the aim of creating an internal workplace conversation, building community, and sharing knowledge.
Yammer also lets you share files, links, photos, and video through posts to either the Home feed or a dedicated community. Live events, such as seminars, Q&As, and trainings can also be hosted directly from Yammer, with employees participating and commenting live or watching a saved recording afterwards.
If your organization suffers from a lack of cohesion or relies on cross-department collaboration, Yammer is well-suited for the job.
Viva
Microsoft Viva is a learning and communication platform powered by Microsoft 365 and Microsoft Teams. Built from the ground up for a better digital employee experience, Viva Insights uses AI (Artificial Intelligence) to analyze employee schedules and routines, with the goal of improving overall efficiency and encouraging employees to refresh and refocus when needed.
For example, Viva may analyze an employee's to-do list and recommend a relevant Viva Learning video to help them get started. Viva Learning acts as a centralized hub for trainings and generalized learning content that can either be pulled from LinkedIn Learning and Microsoft Lessons or custom created for your organization.
Viva is great for diversifying the skills of your workforce, keeping them engaged as they improve, and facilitating a culture of growth and mindfulness at your workplace.
SharePoint
Microsoft SharePoint is an easy-to-use hosting service built on Microsoft 365 that lets your employees create websites for internal company use. Whether that's searching and sharing documents and information within your organization or with partners and customers, SharePoint sites are easily customizable for each department or team's needs.
SharePoint makes it easy to access frequently-used data and documents from anywhere, including mobile devices, and is built with security in mind. A SharePoint site helps your remote or hybrid workforce collaborate and stay on the same page, and simplifies the process for sharing updates with outside clients, customers, or contractors.
Teams
Microsoft describes Teams as "the ultimate messaging app for your organization," and we agree. Not only is Teams functionality seamlessly embedded in the above apps, it is also a one-stop shop for instant messaging, file sharing, and real-time collaboration.
Whether you need to send a quick message for confirmation on project goals, jump into a video call for more information, or throw some ideas on a digital Whiteboard as you brainstorm, that can all happen inside of Teams.
Integrate DEX Tools with the Help of a Microsoft Consultant
Everything from training to clocking-in to finally having that eureka moment as your team collaborates depends on your existing digital employee experience.
As the shift to remote and hybrid work continues and many organizations are seeking out new ways to attract qualified workers, the employee experience–both online and off–is becoming more important.
Whether your organization suffers from high turnover rates, needs to boost productivity, or simply needs some updated tech, a Microsoft consultant can help your business integrate these digital employee experience tools into your existing structure.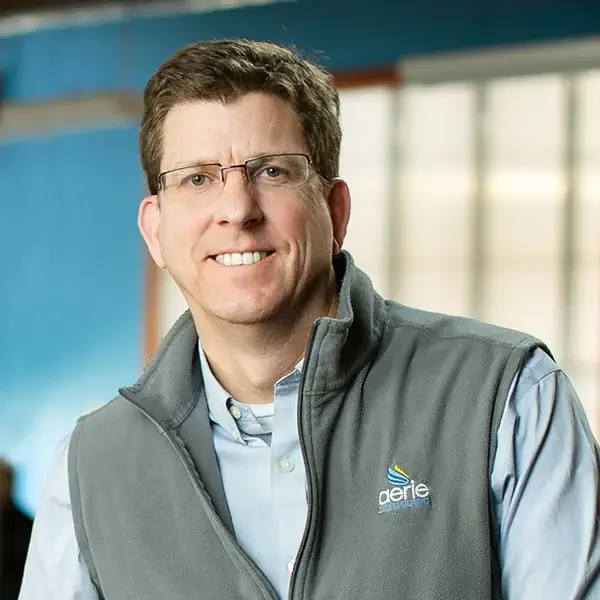 Dave Fisher
Currently based in North Carolina, Dave Fisher, Aerie's founder, plays a variety of critical roles at Aerie, from developing new business and managing client relationships to back-end office logistics. "I try to give our team the tools and atmosphere so they can do what they do best," he says. "I love how every project is unique — and it's fun going to companies, learning what they do, understanding their needs and challenges, then being part of their success."