Growing your company doesn't mean that you should encounter inefficient internal processes like document tracking and searching.
Regardless of your industry, simplifying the task of managing and tracking documents is well worth it. Ensuring documents are easily accessible can save time and resources, boost productivity, and prevent future problems that inevitably come as your company grows and faces the task of needing more intricate document search systems in place.
Thankfully, file and folder systems for searching, tracking, and accessing documents are becoming a thing of the past. In its' place, Microsoft 365's SharePoint allows businesses to use metadata to categorize and tag documents, creating an Amazon-like product search to track and find documents in seconds.
Common Document-Tracking Challenges
Large enterprises love their paperwork. It's not uncommon for them to store millions of documents—far more than anyone can possibly organize without sophisticated software.
As successful companies grow, they frequently cross state and international borders, which takes challenges with organization and access to a whole new level.
Many global corporations struggle with creating a document search that accommodates different native languages, regulations, and business customs. Additionally, effective document management is paramount when companies merge and face disparities in their workflows.
Without an integrated document management system to house and organize files in a central location, businesses can experience significant growing pains as they develop and mature.
For example, when a process on a manufacturing assembly line breaks down and engineers need to find critical information in the SOP, they could waste minutes or hours try to find what they need.
In a survey of 1,000 full-time employees at US enterprises who held roles in HR, sales, finance, and IT, almost 50% reported struggling to find documents. 43% faced workplace inefficiencies related to sharing documents, and 33% had problems with document versioning. This disorganization translates to valuable team members spending a significant chunk of time locating documents instead of doing their job. (1)
Companies that strive for success through efficient operations are replacing outdated file and folder systems with a new solution that can house millions of documents and make them instantly accessible. Crowded servers, convoluted Google Docs, and lost email threads are becoming a thing of the past as Microsoft 365 revolutionizes the document search process.
Solutions for Document Search and Tracking
Microsoft SharePoint makes sorting documentation quick and intuitive by collecting data from key departments and collating them into a single directory. Rather than searching through endless servers and file folders, employees can save thousands of hours with a straightforward document search system—similar to Amazon's product search—that integrates with your SharePoint intranet.
Documents such as operation processes, safety and compliance, and manuals need constant updating, which can be a challenge for many companies. SharePoint facilitates these requirements by enabling users to attach metadata that makes documents searchable in multiple ways.
Key Features of an Amazon-Like Document Search
A document search solution can be integrated with SharePoint, a Power App, or any other intranet you have. The entire idea behind the document search and management solution is to use tags, and terms for each document based on the data hierarchy and naming conventions your company's employees are familiar with and then create a search that easily and quickly filters and finds them.
Formula for Organizing Documents with Tags and Terms
The first step is organizing documents by searchable terms and tags. If you have thousands of documents, this is no easy task. We've helped clients with millions of documents associate each with searchable tags.
Documents can be organized and tagged in many ways, depending on what makes sense for your enterprise. For example, the date or month it was created, document, or file type. Each meta-category can then be further filtered by department, divisions, and any other relevant tag that falls under the meta-filter you started with. You can also use the search bar function to look for keywords and tags within documents.
The following are several visuals of features that your document search solution can include:
Home Page
This page is the first you'll come to, and you can see its Amazon-like search page features. The 'browse' button brings you to all of the searchable terms. The 'recent docs' button takes you to all documents that have been recently viewed. 'My Collections' takes you to documents you've starred or favorited, and the 'add content' button allows you to upload new documents. The arrow on the bottom left takes you back to the intranet. The circles displayed on the homepage are all of the different categories that have been created to organize documents by themes and tags.
Document Search Page
Once searchable tags and terms organize documents, you'll come to a central page where you can filter and find them.
For example, you've got a quarter-million documents spread out over various SharePoint libraries. Your search page now lets you search through your documents in a user-friendly and efficient way, making them easily accessed by everyone in the company who needs them. Using the filters or search bar feature, your quarter-million documents was just whittled down to six in a matter of seconds.
In this example, you see all of the marketing material for a manufacturing company, so everyone on the sales team can find product information using this search interface. You can quickly and easily find all information and documents associated with each product, along with the version history of each document. The gray checkbox on the corner of each card adds it to your "collections," making an instant shortcut to any document.
Collections Page
Let's say you have documents dating back years deep in your libraries. With your document tracker, you'll be able to tag certain documents and create shortcuts for future reference without repeating the search process. They are automatically added to one of your 'collections.' This can be especially helpful for audits, as you'll have the ability to tag documents for auditing, give them a date, and add any other relevant tags you'll need.
Get Feedback Page
This page is a proprietary bonus feature that Aerie has found to be profoundly helpful for many enterprises. Here, any user can give automatic feedback and suggestions and rate the application. Feedback includes not only how the app works, but suggestions for different tags and other relevant information. The 'Get Feedback' page ensures that your app truly meets the ever-changing needs of your workforce.
Easily Accessible and Embedded in SharePoint Intranet
Depending on your company's intranet layout, your document searcher will be appropriately integrated. For example, you may have company-wide and department-specific news and communications on the top of the screen, quick links, and the document search embedded below.
Takeaway
The information architecture of your Amazon-like document tracker solution is built upon your industry and what makes sense for your enterprise. Your current file and folder system or other architecture is used as a baseline from which we'll develop a solution that ensures optimal efficiency, workplace collaboration, and much less wasted time company-wide.
References:
1-https://www.prnewswire.com/news-releases/nintex-study-finds-employees-are-job-hunting-due-to-broken-business-processes-300664422.html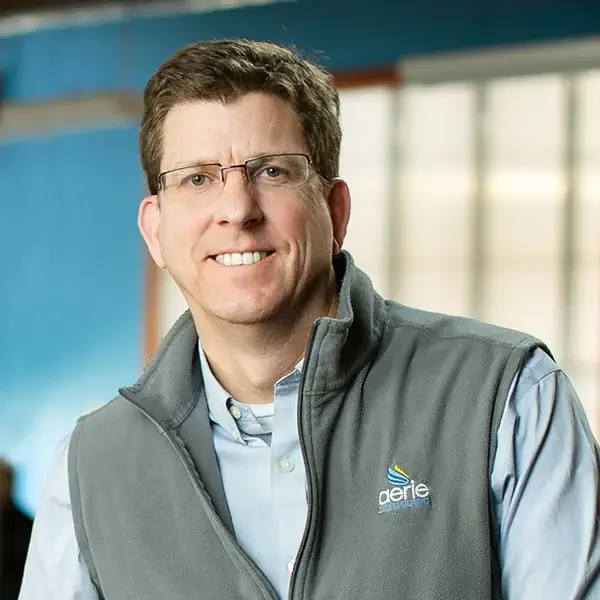 Dave Fisher
Currently based in North Carolina, Dave Fisher, Aerie's founder, plays a variety of critical roles at Aerie, from developing new business and managing client relationships to back-end office logistics. "I try to give our team the tools and atmosphere so they can do what they do best," he says. "I love how every project is unique — and it's fun going to companies, learning what they do, understanding their needs and challenges, then being part of their success."