Today, Artificial Intelligence (AI) has become a substantial aspect of business applications, and it certainly can be intimidating—even a little scary. AI is no longer an idea from the far-off future and, more importantly, it's nothing to be afraid of. In fact, AI is critical to helping your business succeed.
As industries grow more complex and markets continue to rapidly shift, organizations face immense pressure to remain agile and resilient in the face of disruptions. Every company— regardless of industry—must consider how AI can help them achieve their goals.
Microsoft offers many avenues for incorporating AI into your company's operations, but all roads lead to the same destination: improving your business efficiency, employee functionality, profitability, and customer experience. At Aerie, we want to partner with you to understand your company's needs and develop AI solutions that will have the most immediate impact on your organization's goals.
What is Microsoft AI?
Put simply, Artificial intelligence (AI) is the capability of a computer to imitate intelligent human behavior. Through AI, machines can analyze images, comprehend speech, interact in natural ways, and make predictions using data.

Microsoft aims to help organizations across all sectors incorporate AI into their processes at a scale that creates meaningful business impact. AI implementation can deliver real business value in the short term, while also providing a strategic roadmap for future differentiation. To realize the full potential of AI in your business, a company must consider how AI can transform every business function, and determine how to put AI in the hands of all employees as part of their day-to-day functions.

Microsoft AI impacts businesses worldwide in two fundamental ways:
Microsoft AI responds.

Not all AI applications involve revolutionary changes. Companies use AI to improve or automate existing processes as a means of remaining competitive. Microsoft offers a vast array of AI applications that optimize processes, empower employees, and engage customers in every industry.




Microsoft AI reimagines.

To achieve lasting competitive advantages, AI can be harnessed in unique ways. Customized solutions address challenges and create opportunities for organizations worldwide, transforming business models in ways that unlock new markets and revenue streams.
Three Ways Microsoft AI Can Simplify Processes for Your Company
From built-in, out-of-the-box AI solutions to customized machine-learning platforms, Microsoft offers many AI applications and technologies for business use. Knowing which path to choose for your company requires thoughtful exploration of the fundamental ways Microsoft AI provides impactful business solutions.
Artificial Intelligence can be used to simplify existing processes.

Whether automating routine tasks or unlocking data insights, Microsoft's Power Platform and AI Builder can help your organization improve efficiencies and build a competitive edge. AI solutions:
Help quality control detect defects in manufactured parts more quickly

Create chatbots to interact with customers using natural language

Monitor compliance in legal contracts or financial trading

Detect fraudulent behavior or anomalous incidents

Analyze sentiment in customer feedback or social media

Provide supply chain, inventory, or price optimization.



Artificial Intelligence rethinks your business model and vision by leveraging technology to fundamentally reconstruct how your business works.

On a higher level, Microsoft's Azure AI is used for reasoning. This type of machine learning allows you to transform core business functionality. Consider how a few other companies have harnessed powerful AI applications:

Al-Futtaim, the leading lifestyle conglomerate in the Middle East, uses Azure data services to aggregate customer data across its many brands and provide holistic insights. These insights build a complete picture of each buyer, helping Al-Futtaim create hyper-personalized experiences for its customers, fostering customer loyalty and boosting profitability.

Mackmyra Whisky, a Finnish distiller, built an algorithm using Azure Machine Learning that pulls together existing recipes, sales data, and customer preferences to generate more than 70 million recipes. The AI modeling predicts the popularity of different combinations, production details, flavor notes, and overall product outcomes, assisting Master Blenders to evaluate, test, and refine recipes based on their expertise and deep knowledge of the craft.



Finally, Artificial Intelligence is already baked into many Microsoft platforms and improves everyday communication and collaboration tasks.
From predictive word suggestions, customizable video backgrounds, and closed captioning, Everyday AI is employed on Microsoft Teams, Outlook, and Office products. With intelligent productivity experiences in Microsoft 365, Dynamics 365, and Dynamic 365 for Sales, employees can collaborate and conduct meetings more effectively, focus their time on value-added work, and uncover timely insights to improve their output. These AI solutions are a core ingredient to enhance, not replace, the capabilities of your company's employees and leadership.

How to Plan Your Company's AI Strategy
Organizations of all sizes and industries need to consider how AI can help them achieve their goals, and those that harness and scale AI quickly will have a long-term competitive advantage.
At Aerie, we believe you always need to start with a comprehensive and holistic strategy. Whether your company needs an out-of-the-box AI application or a customized solution that requires greater technical expertise and development, an assessment of your organization's needs and goals is critical.
Talk with an Aerie team member today to see how Microsoft Artificial Intelligence can improve your company's efficiency and increase its competitive edge—now, and in the future.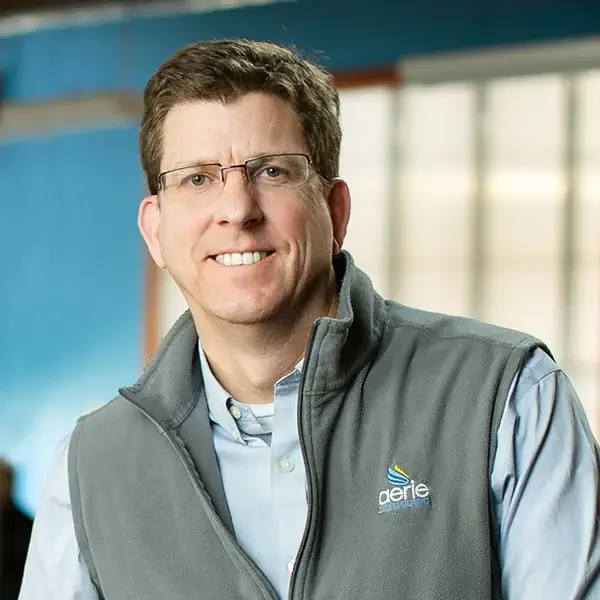 Dave Fisher
Currently based in North Carolina, Dave Fisher, Aerie's founder, plays a variety of critical roles at Aerie, from developing new business and managing client relationships to back-end office logistics. "I try to give our team the tools and atmosphere so they can do what they do best," he says. "I love how every project is unique — and it's fun going to companies, learning what they do, understanding their needs and challenges, then being part of their success."