As we start to move into a post-pandemic business world, remote work and collaboration are the new normal. Providing your employees with the virtual infrastructure they need to be efficient not only makes good business sense, but it's also essential to retaining good talent in a competitive job market.
Microsoft 365 offers robust collaborative tools your employees will want to use. These tools will help your team stay connected, productive, and positive, whether they're working in the same office or across the country from each other.
In this article, we explore four Microsoft 365 apps that make remote collaboration easy and fun:

We will discuss how these apps enable seamless remote collaboration and why people love to use them.
What is SharePoint?
SharePoint is a powerful content management platform which will boost your business productivity. Paper folders and filing cabinets are long gone, and everyone is frustrated by convoluted Google docs and lost email threads. SharePoint uses metadata to tag and categorize documents and files, making them easily accessible and usable. Imagine a virtual library and data hub where you can:
Store and organize millions of company files and documents

Coauthor and collaborate on documents with colleagues

Build a company intranet to share internal news, events, and employee posts

Connect with employees through surveys and polls
This is what SharePoint does and how a SharePoint intranet can be a game-changer—it breaks down a company's departmental silos and brings remote teams together, while providing cloud-based data security and powerful organizational tools to keep track of it all.
What is Teams?
Microsoft Teams is a centralized communications hub that keeps your team virtually connected 24/7. Whether using chat, voice, or video calls, Microsoft Teams provides a powerful platform for your employees to share and collaborate.
SharePoint provides the document infrastructure for Teams, which means when you create a team, an Office 365 group and a SharePoint team site is automatically created for you. You can upload documents to the SharePoint team site and team members can collaborate live, directly through the Teams window. All other Microsoft applications mentioned in this article are directly accessible through a Teams channel.
You may not have everyone in the office breakroom anymore, but with Microsoft Teams you can create the collaborative atmosphere of an in-person office experience, even if some people are still working in their pajamas.
What is Microsoft Planner?
Microsoft Planner is a virtual task management system, that allows executives and team leaders to manage workflow for the entire company. Organized like a virtual bulletin board, the Planner app allows managers and teams to create tasks, assign tasks to individuals, set due dates, mark progress, etc. Coworkers can collaborate and follow each other's workflow. Easy to use and fully integrated with Microsoft 365, the Planner app helps you to create a plan, build a team, assign tasks, and monitor progress with one click.

What is OneNote?
OneNote is an incredibly versatile live notebook that allows teams to write, collaborate, and build off each other's notes. Imagine a digital notepad where you can type or handwrite your notes—that's OneNote. As with the rest of Office 365, OneNote is cloud-based and allows for real-time collaboration with team members. Designed for seamless use on multiple devices, OneNote allows users to add text, images, video, charts, and graphs to a notebook. Users can also add handwritten text and convert it over to typed text.
While Microsoft Word is still the gold standard for final polished documents, OneNote is the best platform for team idea development and collaborative thinking.
Conclusion
There are a lot of apps out there for organizing your business. The Microsoft 365 apps listed here have two undeniable and powerful advantages when compared to other business intelligence software.
First, these Microsoft apps provide a seamless ecosystem in which your employees can develop and collaborate. There's no lag time, lost documents, or clunky interface, which keeps workflow efficient and effective. Second, your company will have the peace of mind that Microsoft Cloud security provides. Your data, ideas, and business development remain protected, and you have ultimate control how information gets shared.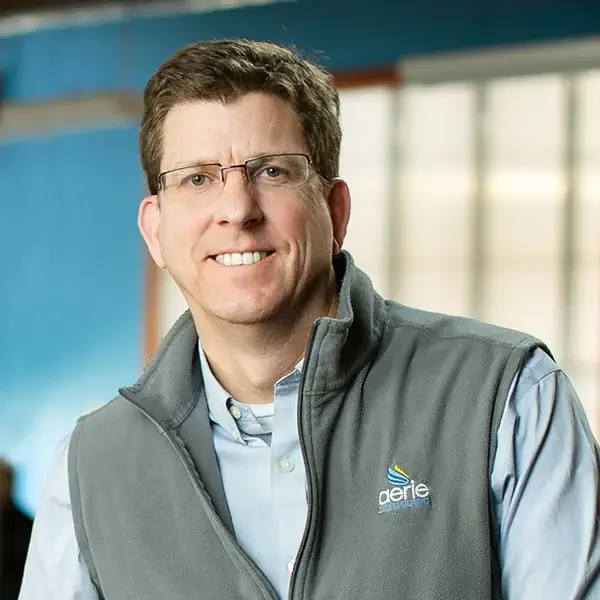 Dave Fisher
Currently based in North Carolina, Dave Fisher, Aerie's founder, plays a variety of critical roles at Aerie, from developing new business and managing client relationships to back-end office logistics. "I try to give our team the tools and atmosphere so they can do what they do best," he says. "I love how every project is unique — and it's fun going to companies, learning what they do, understanding their needs and challenges, then being part of their success."