Buried somewhere in the avalanche of data that your organization is generating and reporting each day are the surprising insights and hidden patterns that should be informing your next key decision.
The challenge lies in sifting through that data, visualizing its impact, and using it as a solid foundation. Let's look at these key Power BI features that can harness your data and make it relevant, interactive, and accessible for everyone on your team.
What is Power BI?
Power BI is a platform for self-service and enterprise business intelligence that is designed to bridge the gap between data and decision-making. It allows anyone in your organization to access, model, and visualize relevant data from hundreds of sources, whether on-premises or in the cloud.

This includes Dynamics 365, Azure SQL Database, Salesforce, Excel, and SharePoint, along with more than 500 other freely available connectors. Power BI is customizable, flexible, and interoperates with other Microsoft tools like Excel and Teams, which makes sharing and presenting data painless.
Power BI Features | Data Reporting
Since Power BI is such a powerful tool for collecting and visualizing data, one of its most common use cases is data reporting. By using the Power BI reports server, anyone can pull from the mountains of complex visual, graphical, and textual data available and publish a report targeted toward their team's KPIs. The Power BI report server is based on the SQL Server Reporting Services (SSRS) Framework and empowers users to create, share, and collaborate on company reports while protected by your organization's firewall.
Data Modeling & Formatting
Power BI provides you with complete control over your data, from input to output. Model the ways that your data interacts by creating relationships between sources, and harnessing AI tools to quickly perform calculations. If you are pulling information from multiple systems, Power BI has a powerful suite of modeling and formatting tools to make your data accessible.
Datasets Filtration
From the Filters pane, editors and readers using Power BI can focus on relevant variables or areas. This not only filters and highlights text but also dynamically redesigns graphs and charts. This responsive and easy-to-use feature makes "a-ha" moments possible for you and your team as the data reacts to your direction in real-time.
DAX Data Analysis Expressions
Formulas and expressions in Power BI are built on a library of functions and operators, called Data Analysis Expressions. Accessible from Power BI's model designer, this language is built to perform advanced calculations and queries on your data. You can rely on its robust, built-in formulas, or create your own. Tools like AutoComplete and resources like Microsoft's Power BI Community will help you harness this flexible language and make it work for your needs.
Power BI Features | Data Visualization
Data visualization with Power BI makes it simple to focus on the big picture or pinpoint trends hidden in plain sight. Create a comprehensive snapshot of your team's progress or track trends over time with Power BI's easy-to-use dashboards and tiles. The interface is easy to understand for any employee and makes data visually pleasing and quickly accessible.
Customizable Dashboards
Dashboards collate the vast amounts of data that are being generated every second for your business -- client interactions, sales leads, throughput, etc. -- and make them readable for your team. A dashboard can be tuned to the needs of one department, one client, or one product to empower decision-making through accessible information.
For example, you may choose to keep a sales dashboard that tracks sales by month, customer-specific growth, and forecasted trends. Dashboards can harness the power of automation and AI to capture real-time data and keep your team informed. Everything from data to color, style, and layout can be customized.
Flexible Tiles
Each piece of information on a dashboard is represented by a tile. For example, a real-time chart of orders pulled from reports may sit side by side with a tile that represents KPIs and is updated monthly or quarterly. Anything from rigorously-filtered data to static images or streaming web content can find its place on your dashboard as a tile.
Built-in Visuals
As customizable and adaptable as Power BI is, its built-in visuals are also easy to access and implement from the Visualizations pane. There, you can present your data as a line, bar, funnel, pie, or donut chart and map it as you wish. Power BI users can also search on AppSource, a platform integrated with the custom visuals SDK where developers can create their own open-source data visualizations.
If you aren't sure that you're getting the insights you need from your data, consider choosing a different visualization and taking a look at it through another lens.
Final Thoughts
From the simple to the complex, data reporting and management are essential as your company achieves KPIs, quarterly goals, and long-term objectives. Out of the box, Power BI has the flexibility and features to unify your data reporting and visualization workflow while making it more engaging and informative than ever. Dashboards, DAX, and responsive modeling and data filtration take this even further by emphasizing customizability and adaptability to meet your needs.
Take advantage of dashboards that keep your teams updated and Power BI's advanced modeling and visualization tools for communication. With these essential features, your analysis will be more insightful and your planning more grounded as you take control of your data.
---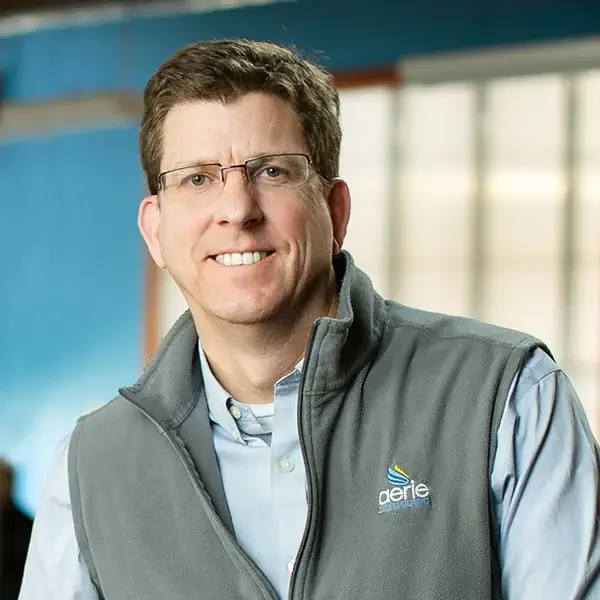 Dave Fisher
Currently based in North Carolina, Dave Fisher, Aerie's founder, plays a variety of critical roles at Aerie, from developing new business and managing client relationships to back-end office logistics. "I try to give our team the tools and atmosphere so they can do what they do best," he says. "I love how every project is unique — and it's fun going to companies, learning what they do, understanding their needs and challenges, then being part of their success."