Enterprise resource planning (ERP) is expected to become a 60 billion dollar market by 2026. As tech giants compete for market share, Microsoft Dynamics 365 for Finance and Operations has emerged as a powerful tool to optimize finance, enable customer insights, and increase profit margins.
Rather than slogging through tedious, time-intensive project development tasks, leading companies around the world are utilizing Dynamics 365 Finance & Operations to automate and simplify complicated data.
Read on for detailed information on how Dynamics 365 can boost productivity and profits for your company.
Microsoft Dynamics 365 for Finance & Operations
With a host of new features, Dynamics 365 Finance & Operations is poised to revolutionize the way the world does business. The services are currently divided into two distinct licenses: Finance and Supply Chain Management.
Dynamics 365 Finance provides advanced financial insights and AI-driven analytics to reduce costs and optimize budgets. For example, users can manage quotes, invoices, and payments from a centralized, easy-to-use system on Dynamics 365 Finance.
Dynamics 365 Supply Chain Management is a multifaceted tool that offers cutting-edge modules in a wide variety of concepts, from asset management, to IoT intelligence and warehouse management. For instance, your company can expedite shipping times by optimizing inventory and automating select warehouse operations.
A cloud-based ERP system is the perfect complement to a talented workforce. Using cloud computing, leading businesses are empowering their employees with ERP software that's accessible from anywhere.
Utilizing powerful native integration, endless scalability, and reliable security, D365 Finance & Operations gives growing businesses a competitive advantage over other companies while also increasing profit margins.
Regardless of your business needs, Dynamics 365 can streamline otherwise laborious processes and strengthen your team with helpful insights.
Benefits of Dynamics 365 F&O
Users rely on Microsoft Dynamics for a multitude of advantages over other ERP services. The following are only a fraction of the total functions and benefits of Dynamics 365 F&O.
Cost Reduction
With advanced automation, D365 can help identify and reduce redundant resources. Minimize costs and take pressure off your HR department with vendor invoice automation, expanded localization, and simplified benefits programs.
Consolidate data from multiple sources using Dynamics 365 Finance and get clear, real-time information about your business. In addition to automation, features like budget control and analysis can mitigate risks from unpredictable changes in the market.
Use the Sales Insights function to forecast your future performance and prepare for numerous business scenarios. Whether your business is experiencing sustained growth or mitigating contraction, automated processes will boost productivity and maximize financial performance.
The bottom line is Dynamics 365 Finance will centralize independent departments like payroll, IT, and HR—reducing needless work for your employees and increasing company-wide productivity.
Advanced Software Automation
It's easy and intuitive to integrate different modules using D365 services. Guarantee sales estimates and quotes are made with the most up-to-date information. Create complex systems that straddle different departments and offices so everyone is on the same page.
Foster a healthy relationship with your customers using a fully integrated CRM. Make complicated data easily digestible with Power BI and get insights on production delays, equipment downtime, and product quality using customizable IoT innovations.
With personalized supply chain management, you can save money that would have been spent training and re-training team members. Not only will this help your employees focus on more essential tasks, but it also frees up capital to invest in other areas of your business.
AI Predictions
Dynamics 365 services use the latest advances in Cortana and Azure machine learning to equip businesses with advanced cloud analytics services. The "Finance Insights" feature automates "low value" tasks while encouraging managers to make proactive maneuvers using AI technology.
View the financial health of your company in one convenient visual display that collates data from the general ledger and sub-ledgers. This simple dashboard combines metrics like KPIs, ROIs, and cash management.
Give your financials team the tools they need to succeed with up-to-the-moment statistics and projections. Make high-level decisions without guesswork and minimize liabilities that could cost you money down the road.
Decrease Global Financial Risk
No code and low code globalization services give international businesses the opportunity to simplify tax calculations with Dynamics 365 Finance. With a guided, rules-based chart of accounts, it's easy to deal with tax regimes across countries and continents.
Save on personnel expenditures and paperwork as D365 helps you automate electronic invoicing, regulatory reporting, and global payments. With an optimized approach to global business, your company can stay laser-focused on acquiring clients, maintaining productivity, and increasing profit margins.
Dynamics 365 F&O Services
Don't get left behind as businesses modernize and enlist the support of sophisticated ERP services like Microsoft Dynamic 365. With a single suite of programs, you can reduce costs, automate software, enable advanced AI insights, and decrease exposure to financial risk.
A qualified Microsoft consultant can kickstart your new programs by ensuring all apps are integrated and training your team to use Dynamics 365 to its full potential.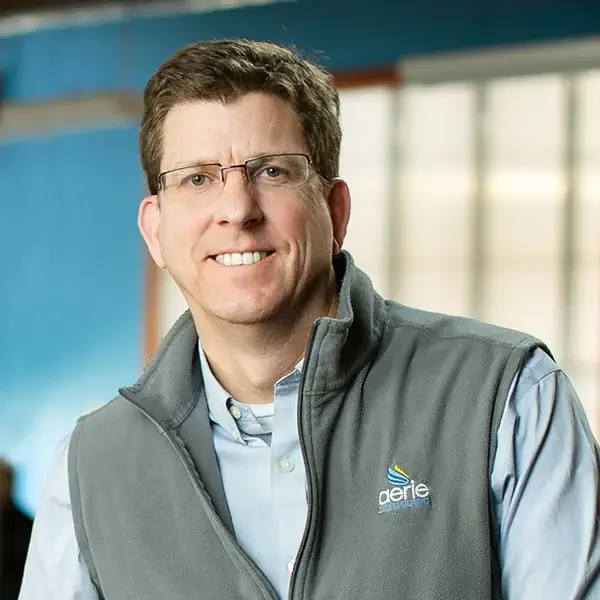 Dave Fisher
Currently based in North Carolina, Dave Fisher, Aerie's founder, plays a variety of critical roles at Aerie, from developing new business and managing client relationships to back-end office logistics. "I try to give our team the tools and atmosphere so they can do what they do best," he says. "I love how every project is unique — and it's fun going to companies, learning what they do, understanding their needs and challenges, then being part of their success."