Do you really need salespeople today?
Think about that for a moment.
When buyers need something, they jump online and start researching. When they need a referral, they ask a friend or colleague. When they are ready to make a purchase – and your brand is on the short list of contenders – you will hear from them.
That's how empowered today's customer is.
It's easy for brands to become disillusioned with the entire process. It's also easy to forget that sellers have access to incredible information too, and they can harness the data to create a distinct advantage in the marketplace.
This is how Dynamics 365 can really help your sales team.
Turning Challenges Into Opportunities
One of the key advantages of Dynamics 365 is the ability to retrieve data from multiple sources in Office 365 and extract insights that help salespeople guide the discussion with customers.
Instead of starting a conversation with a predictable monologue about your product features and benefits, you can use these insights to ask intelligent questions and explore customer needs in greater depth.
For instance, you can use an add-on called Inside View that updates and manages qualtitative information about your prospects, including company size, annual revenue, and job title. Even better, you can drill down and see social media feeds, company news, and other insights will that help you discover what they care about.
Improve Closing Ratios with Predictive Analytics
Getting salespeople to manage their time better is always a challenge, but now predictive analytics can help them focus on the right opportunities. Teams can access data in their dashboards that predict which prospects are most likely to buy, and which ones are probably kicking tires.
You can also nurture existing relationships by leveraging insights to create relevant and powerful interactions with clients, helping you keep up with changes in business and adapting your services to fit their needs.
Set Goals, Manage Reports, and Create Projections
Managing flash reports and quarterly projections were once the bane of every sales manager's job. These headaches are now well behind us. Dynamics 365 uses real-time data and predictive models, presented in easily digestible graphs, that allow you to quickly and accurately see into the future.
Customize Your Sales Process Using Behaviors of Top Performers
If only every sales person could close business like your top performers, right?
Using process management and activity monitoring, you can identify behaviors used by your most successful team members, and integrate them into process your team follows in the CRM. Dynamics allows you to customize the sales process your staff follows, making sure they cover all bases and increasing the chances an opportunity will reach a happy conclusion.
Are your best salespeople making 50 calls a day? Put this expectation in the process, and see what happens.
Get Social with Leads. Reduce Churn with Customers.
With enhanced data sharing capabilities between departments, Dynamics 365 helps you resolve service issues quickly and efficiently, which keeps customers happy.
Dynamics also lets you modernize your sales process by bringing "social selling" to your CRM using LinkedIn Sales Navigator. If you haven't used it before, this tool helps you identify passive buyers that make good prospects, meet new people through colleagues, and stay in tune with what's happening with your established customers.
Integrate Tools Your Team Already Use.
If your team can't get anything done without using Outlook or Excel – don't worry! Dynamics offers a simplified, immersive experience in Office 365. People can use Office tools they know and love without having to switch from one app to the other. With Dynamics 365, it's all integrated.
Enable Salespeople to Work on the Go.
All CRMs offer a responsive design for the mobile workforce. If they didn't they wouldn't stay in business long. One of the advantages of using Dynamics is you can use the tools even the user is offline.
No matter where they are, people can log activity, enter data, and (when connected) share information in real-time with managers.
Buyers are coming to the table with lots of information on their side, and believe it or not, they want to be sold.
They want to know you've got salespeople who ask good questions and put the answers to good use. They want to know their business will never be taken for granted. When problems arise, they want to know you will take care of it quickly.
They want value, just like you. Isn't it time to invest in the tools that help you show it to them? For more information on costs of setting up Dynamics 365 and how you can save on implementation, read this article What Does Microsoft Dynamics 365 Cost?
Ready to boost your sales performance?
Let us help you get started with Dynamics 365.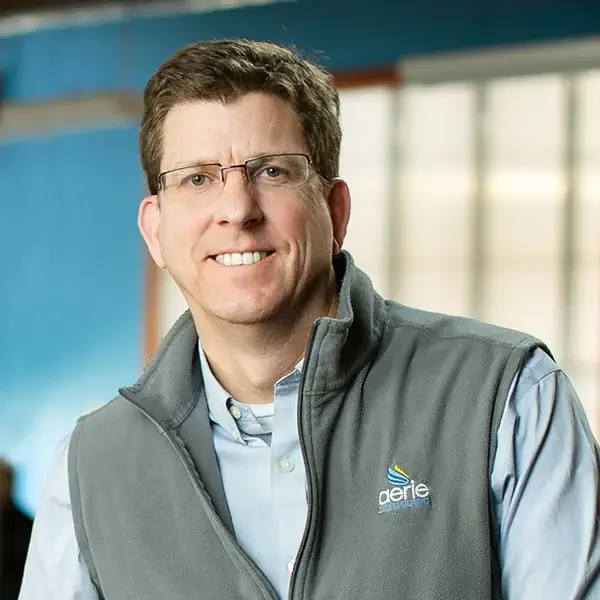 Dave Fisher
Currently based in North Carolina, Dave Fisher, Aerie's founder, plays a variety of critical roles at Aerie, from developing new business and managing client relationships to back-end office logistics. "I try to give our team the tools and atmosphere so they can do what they do best," he says. "I love how every project is unique — and it's fun going to companies, learning what they do, understanding their needs and challenges, then being part of their success."