Retaining a qualified workforce is one of the most challenging aspects of running a successful business. In the wake of the "Great Resignation," companies are turning to innovative technology like Microsoft Teams training to keep their employees content and productive.
For the vast majority of businesses, there is ample opportunity to improve onboarding. Only 34-percent of employees are satisfied with their job-specific training.
With a few convenient tools, companies can maximize employee satisfaction from the moment they step into the office.
In this article, we'll dive into some key Microsoft Teams features that can help optimize your onboarding process, including:
Live Training Sessions
Training Material Storage
Prescheduled Onboarding Meetings
Before we explore these features, let's discuss employee onboarding as a whole and how an inefficient process can increase employee turnover.
Employee Onboarding Essentials
Onboarding is a business term that refers to new hires acquiring the skills they need to be successful and valuable in their role. This includes everything from tax paperwork to assigning equipment and—most importantly—job-specific training.
Many companies fail to create standardized onboarding guidelines and neglect to collect employee feedback from new hires. Without concrete data or an organized process, these companies will inevitably repeat the same mistakes and frustrate their workforce in the process. With the advent of remote work—and remote training—it has never been more important to improve onboarding.
With Microsoft Teams, you can easily employ onboarding best practices like storing essential files in an easy-to-access digital space and encouraging open and honest feedback from new hires.
Microsoft Teams for Employee Onboarding
Over 500,000 offices rely on Microsoft Teams to streamline communications with cutting-edge programs like workspace chat, video conferencing, and file storage. Although Microsoft Teams has a wide variety of applications, certain features are particularly beneficial to the onboarding process.
Live Training Sessions
Improve onboarding with live digital training sessions for new employees. Not only is live training more engaging than formulaic pre-recorded materials, but Microsoft Teams Training easily accommodates remote and hybrid work environments.
Training sessions are an opportunity to share best practices, procedures, and company expectations. When your new hires are up to speed on company culture, hold a Q&A session so you can get beneficial feedback in real-time.
Concentrate on the most essential information during the training live stream to avoid new hire burnout and information overload. Employees can view all other information at their leisure from a centralized folder on Microsoft Stream.
Using a flexible, employee-driven training model increases fulfillment and adds a distinctly human dimension to an otherwise bureaucratic process.
Store and Share Training Materials
Whether your workforce is local or scattered across the globe, you can seamlessly store, search, share, and work on files in Teams. Through SharePoint integration, employees can collaborate on the same document across time zones and between different departments. If new hires have any questions, they can easily use Teams chat to engage with management and share files instantly.
Teams offers simple customization options so new hires only receive files pertinent to their position. Avoid the irritation of irrelevant training materials and pointless instructions. Upload important documents, videos, paperwork, and other resources directly to the "Files" tab so employees can access them at all times.
Schedule Onboarding Meetings
Connect supervisors and new hires through one-on-one meetings and introduce new employees to their peers with larger department calls. Whether your training lasts one week or several months, you can customize your Microsoft Teams training and schedule meetings accordingly. If necessary, you can schedule onboarding meetings months in advance.
Use onboarding sessions to learn about a new hire's communication preferences and working style. If employees have any questions, give them an easy forum to voice inquiries in a low-stress environment.
Maintain healthy professional relationships by scheduling regular one-on-one meetings. Routine check-ins are an important team-building tool for all employees, but they are especially vital for new hires, particularly those who are joining your team in a remote work setting.
Final Thoughts
With turnover at an all-time high, it has never been more important to prioritize employee satisfaction. Microsoft Teams training provides scalable, intuitive, affordable tools to improve onboarding and retain valuable talent. Organize live training sessions, share relevant files, and schedule onboarding meetings with ease.
After investing resources in recruiting new talent, onboarding is essential to retaining new hires and maintaining a productive office environment. A Microsoft consultant can help integrate Teams into your current system and make your onboarding process as smooth as possible.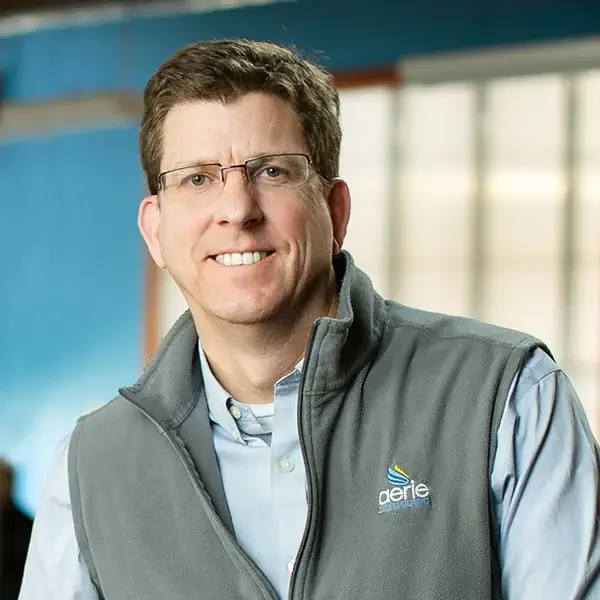 Dave Fisher
Currently based in North Carolina, Dave Fisher, Aerie's founder, plays a variety of critical roles at Aerie, from developing new business and managing client relationships to back-end office logistics. "I try to give our team the tools and atmosphere so they can do what they do best," he says. "I love how every project is unique — and it's fun going to companies, learning what they do, understanding their needs and challenges, then being part of their success."