Effective communication is important for retaining loyal customers, but it's hard to respond to everyone personally, right?
Let's explore customer engagement as a marketing concept, and then uncover ways you can improve your company's approach.
What is Customer Engagement and Why is it Important?
Customer engagement is the process of interacting with your clients or buyers through a variety of channels to develop and strengthen their relationship with your brand. It's crucial to engage with your customers throughout their entire buying journey to improve their satisfaction and loyalty.
However, this can be difficult for many businesses because it requires understanding customer needs and offering personalized experiences that are tailored to their preferences and consistent across all channels—social media, e-mail, newsletters, and online advertising.
Depending on your company's size and industry, there are many ways to measure the impact of customer engagement on your business. You could track how often customers purchase from you, their average order value (AOV), or how likely they are to recommend you to others. These metrics demonstrate some level of customer engagement, and you need appropriate marketing tools to gather and analyze that data.
The more engaged your customers are with your brand, the more likely they are to remain loyal buyers. Strengthening their emotional connection with your brand leads to increased sales and conversion rates.
If you and your marketing team struggle to maintain a consistent relationship with personalized touch points throughout the customer journey, it might be time to think about a more comprehensive solution for your marketing needs.
What is Dynamics 365 Marketing?
Microsoft's Dynamics 365 Marketing is a highly personalized, customer-led, omnichannel marketing solution. It combines the power of customer data and analytics with the agility of digital marketing to deliver an end-to-end experience that is tailored to each customer.
With even more features and innovation in a robust 2021 update, Dynamics 365 Marketing provides integrated campaign management, predictive lead scoring and nurturing, dynamic content, and personalized web experiences.
With all these features in place, it's easy to see why Dynamics 365 Marketing is considered a market leader in curating real-time customer journeys and B2B marketing automation.
Key Features
Dynamic 365 provides customers with a single, unified platform for marketing automation and engagement across all channels, including email, social media, mobile apps, and websites. It contains two major modules: Real-Time Marketing and Outbound Marketing.
Both of these modules facilitate marketing automation to send personalized emails, help you maintain compliance, and provide analytics that generate insights to help you take strategic action.
Real-Time Marketing
This set of tools helps marketers orchestrate their customer journey, build event triggers, and send push notifications in real-time. Using AI-powered ideas to create unique content, Real-Time Marketing also offers marketers the ability to organize their customers by data and personalize messages in real-time.
The messages seamlessly connect with your customers on the channels they use most. The result is a smooth customer journey that feels consistent and tailored specifically to their needs.
Dynamics 365 Outbound Marketing
The Outbound Marketing feature provides an all-in-one solution for marketers to engage with their prospects and convert them into leads. It enables marketers to create marketing pages, send email campaigns, and post on social media using the same platform.
D365 Outbound Marketing also provides lead scoring capabilities that allow marketers to leverage engagement on social media platforms like Instagram or LinkedIn. The software is powered by AI machine learning, garnering insights from each campaign run and creating a unified connection between marketing and sales processes.
Twilio and TeleSign Integration
This updated and improved integration is a great way of sending transactional communications and marketing messages. Twilio and TeleSign are two tools that can help you send SMS messages to your mobile users.

Twilio is a cloud communications platform for developers to build, run, and scale applications by providing APIs for voice and messaging. TeleSign connects and protects online experiences with sophisticated customer identity and engagement solutions. Both integrations allow for your mobile customer engagement to translate quickly and smoothly into sales.
Final Thoughts
Engaging customers through a personalized customer journey is essential to your company's success and bottom line. As technology further removes customers from brick-and-mortar stores and real-time human interactions, you need to leverage sophisticated marketing tools and innovative technology to maintain customer loyalty.
With its AI-powered learning, omnichannel engagement, and robust integrations, Microsoft Dynamic 365 Marketing may be the answer.
---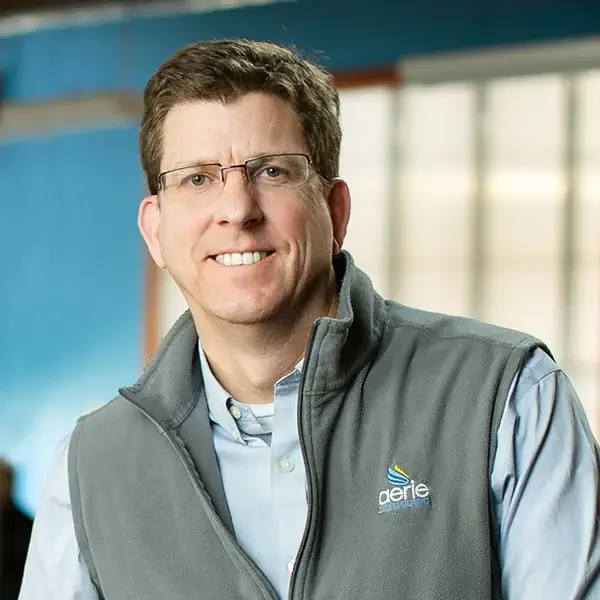 Dave Fisher
Currently based in North Carolina, Dave Fisher, Aerie's founder, plays a variety of critical roles at Aerie, from developing new business and managing client relationships to back-end office logistics. "I try to give our team the tools and atmosphere so they can do what they do best," he says. "I love how every project is unique — and it's fun going to companies, learning what they do, understanding their needs and challenges, then being part of their success."