In the manufacturing industry, making sure that your compliance management is seamless can make or break your ability to do business. Streamlining work processes and maximizing employee efficiency is paramount, especially when dealing with hundreds or thousands of daily compliance tasks. 
In order to comply with environmental and safety regulations, every company needs an organized and user-friendly way to track and assign tasks, link them to relevant information to ensure adherence to internal and governmental policies, and know when actions are completed, upcoming, or past due.
Microsoft 365 offers the tools to create an integrated, audit-ready application for tracking compliance activity across all facilities.
Common Compliance Management Challenges
Many large manufacturing enterprises are responsible for tracking and reporting on thousands of daily compliance tasks.
Each individual task often requires various supporting documents, permits, reports, and drawings. It can become extremely challenging to monitor real-time compliance activity, especially when you have multiple facilities with their own operations teams.
Many manufacturing companies also work with legacy compliance management systems that are outdated, costly, and lacking in key modern Office integrations. End users often find them difficult to navigate, as well.
The combination of a growing manufacturing company and an inefficient environmental compliance management application can slow productivity and expose your business to risk.
Related Content: Learn More About Power BI
How Microsoft 365 Improves Environmental Compliance
Using a combination of Microsoft 365 technology delivered through Teams, Power Apps, and Power BI, you can create a custom compliance management solution that collects information from all facilities and enables corporate headquarters to identify and prevent compliance risks.
You will also get real-time visibility into facility operations and a full audit trail of historical compliance activity.
While a compliance management solution can be tailored to your company's specific needs, we've included the following features in past solutions.
My Tasks
This desktop view of 'My Tasks' includes tracked and untracked tasks assigned to an individual, division, or facility, usually assigned by managers. Untracked tasks can be added by individuals and make up a to-do list of sub-tasks. For example, if you are assigned a compliance task for a permit renewal, you can create untracked tasks for site plans, inspections, and other items that must be completed.
Here, you can also enter new tracked tasks with a title, facility, task type, and description. You can find out who the task is assigned to, to what category it belongs, its due date, and pass/fail criteria. For example, an engineer on the ground often requires in-the-moment permit requirements and other critical information for compliance tasks. They will get this information instantly using the "My Tasks" feature.
Clicking on each task allows you to see the supervisor, facility, history of actions and notes, and all other relevant information. You can also upload photos from the field.
Users can easily add notifications for tasks (for example, notifying managers or other team members), create checklists, and reassign tasks as needed.
Icons offer a simplified visual representation of task information and status. Checkmarks mean the task is a compliance task; the clipboard icon represents an untracked task; and each is color-coded by whether they are late, upcoming, or completed.
All Tasks
All Tasks is used by managers, as it allows you to see an overview of everything and edit and delete as necessary. Each supervisor is granted appropriate permission settings and can view tasks through filters such as facility, date, assignee, completed vs. pending or overdue tasks, and division. Tasks can also be easily reassigned here.
Calendar
Primarily used by managers, the calendar task view allows you to view tasks by day, month, and year. You can also see recurring tasks, color-coded by completion status, in a user-friendly calendar layout.
Reporting
The reporting feature through Power BI is used by corporate and general managers at each facility. You can see a corporate overview with different data views to pinpoint task issues regionally and by facility, then click down to specifics. These views give an overview of how everything is working at each site.
Clicking on the facility analysis tab provides more discreet data and allows managers to see what they've assigned, ensuring an appropriate distribution of upcoming work.
Escalation Emails
Using Power Automate, this solution feature automatically sends escalation emails when tasks are close to being due. When tasks are due in three days, the assignee and relevant team members and managers are notified via email. With just one day until the completion deadline, corporate is notified. Any overdue task sends a daily email to everyone to ensure compliance.
Takeaway
With a compliance management solution, all company users, from boots-on-the-ground workers to the corporate C-suite, work together and stay connected on vital tasks and issues.
Your enterprise will gain consistent snapshots of potential compliance issues and the ability to take immediate action, keeping productivity high and the risk of fines or accidents low.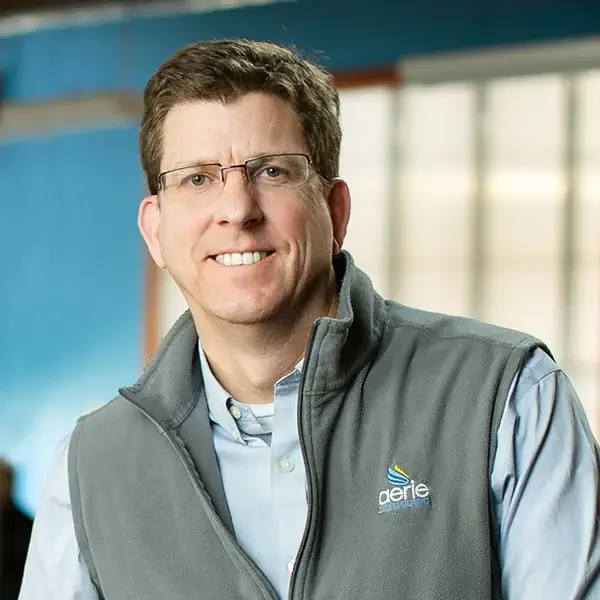 Dave Fisher
Currently based in North Carolina, Dave Fisher, Aerie's founder, plays a variety of critical roles at Aerie, from developing new business and managing client relationships to back-end office logistics. "I try to give our team the tools and atmosphere so they can do what they do best," he says. "I love how every project is unique — and it's fun going to companies, learning what they do, understanding their needs and challenges, then being part of their success."