Which intranet platform is the best fit for your business?
If you are researching the options, you know there are a lot of ways to go here. There are many platforms to choose from, each with its own list of out-of-the-box features and integration options, it's hard to know one from the next. In this post, we will compare two of the most popular intranet platforms – SharePoint and Confluence by Atlassian – and break down how they measure up in terms of ease of use, functionality, integration capabilities, and cost.
Full disclosure time: We are SharePoint experts. It's the backbone of our Accelerated Intranet and the suite of collaboration tools Office 365 offers, but every portal has its pros and cons, and SharePoint is no exception. We will cover the good and bad of both systems, and help you figure out which makes the best fit for your company.
Functionality
Primarily a document management and a collaboration tool, SharePoint has a depth of functionality that outperforms most competitors. You can build team sites, set up groups for collaboration, share project files, maintain calendars, configure document workflows, and distribute company news to employees. SharePoint also integrates with other useful collaboration apps with Office 365, including Yammer, OneDrive, and Skype for Business.
Confluence, by comparison, has more limited functionality. Marketed primarily as a collaboration software, Confluence helps you create documents, collaborate on pages, and share meeting notes. These features are similar what you'll find in SharePoint. For instance, a "Space" in Confluence is like a team site in SharePoint. You can configure each Space so that only certain groups can access them.
One function Confluence has that SharePoint doesn't is integration with Jira, a tool for bug tracking. Like Confluence, Jira was created by Atlassian, offering developers a code repository that helps identify issues in software or mobile applications. SharePoint's doesn't offer a comparable tool for this specific purpose.
Ease of Use
Confluence gets high marks for user-friendliness out-of-the-box, whereas SharePoint has more of a learning curve.
Most organizations will need some training to get the most out of SharePoint, but there's a big payoff with that investment of time. Once users get past the initial stages, they will be able to use the platform, along with Office 365 for most of their work functions. Confluence is a bit more limited, which means that you will probably have to adopt, implement, and learn other tools to go with it.
SharePoint also has more users, which means there is more training and documentation available on the web. If your users run into problems or have questions about using certain features, helpful tutorials and guides are just a Google search away. Confluence isn't as widely used, so you may not find answers quite so easily.
Integrations
Integration is one place where SharePoint really stands above all others.
Since it comes with your Office 365 subscription, your portal comes enhanced with several collaboration apps that make creating and sharing documents easy. Most people are already familiar with Office products like Word, Excel, and PowerPoint, and all these apps play nicely with SharePoint.
Confluence also has add-ons and plugins to allow integration with other programs and systems, but it doesn't compare with the way SharePoint melds with the Office 365 suite of tools.
Upgrades
The comparison between SharePoint and Confluence is a wash when it comes to the ease and cost-effectiveness of upgrades. If you are using Office 365, you will get automatic feature upgrades through the cloud. The same is true for the cloud version of Confluence.
If you are running either software from an on-prem server, you will need someone with tech experience to patch the servers and run the configurations. The only difference is that Confluence can run on both Windows and Linux, whereas SharePoint on-prem is Windows only.
Costs
It's impossible to say whether SharePoint or Confluence is the more cost-effective intranet without knowing specific information about your enterprise. The number of users you have, the makeup of your existing tech infrastructure, and the features you need are all variables that come into play here.
The cloud version of Confluence costs $10 per month for up to 10 users and $100 a month for up to 25 users. SharePoint Online costs $5 per user per month for the lowest license tier, but you are also getting the additional benefits of Office 365. With Confluence, you are just getting an intranet.
If you are looking to operate your own on-prem server, SharePoint gets pricey. You need a substantial technical infrastructure in place to run SharePoint on your own server, which usually requires a full-time administrator to build. Confluence is easier for on-prem solutions because you can pay a one-time fee and run it on a single server (something that isn't recommended for SharePoint).
Which intranet platform is best for your organization depends on your needs today, and how your organization is evolving. Confluence is intuitive out-of-the-box, making it an attractive option for some small organizations, but it doesn't provide the scalability SharePoint is known for. Investing in an intranet that changes with your needs and integrates with your favorite Office tools make a powerful and effective solution for a growing enterprise.
If you've got questions we haven't discussed here, give us a shout and we will give you an honest assessment about which platform is right for you.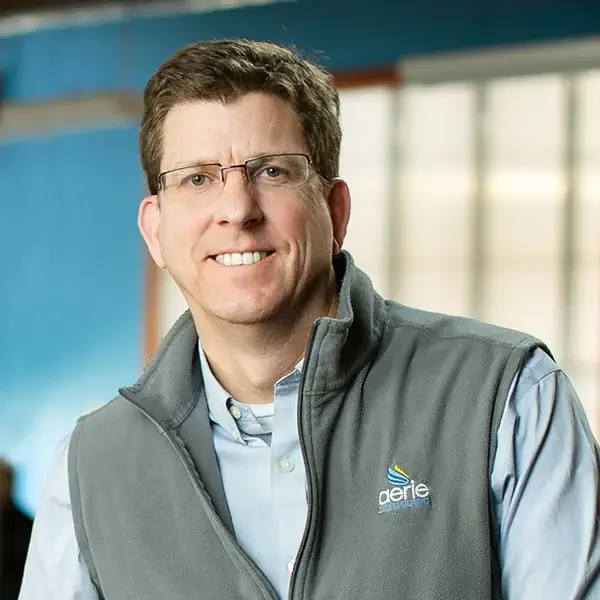 Dave Fisher
Currently based in North Carolina, Dave Fisher, Aerie's founder, plays a variety of critical roles at Aerie, from developing new business and managing client relationships to back-end office logistics. "I try to give our team the tools and atmosphere so they can do what they do best," he says. "I love how every project is unique — and it's fun going to companies, learning what they do, understanding their needs and challenges, then being part of their success."