Microsoft Viva is combining new and existing Microsoft 365 capabilities that support the employee experience. Introducing Microsoft Viva, an inclusive employee experience platform, that appeals to Human Resources functions and internal communications while addressing several organizational priorities around people.
What is Microsoft Viva?
Defined by Microsoft as communication, knowledge, and learning platform powered by Microsoft 365 and experienced through Microsoft Teams, Viva cultivates a culture that allows people and teams to do more, earn more, and make a positive impact by collaborating to reach goals. Viva is an experience platform designed to drive better business results.
Microsoft Viva comprises four apps: Viva Connections, Viva Insights, Viva Learning, and Viva Topics. All four apps are being brought together under the Microsoft Viva Brand as part of an all-encompassing focus on employee experience. While every business may not use all four of the modules or every aspect of each, Microsoft Viva includes something for every business.
Let's dig deeper.
Microsoft Viva Connections
Viva Connections is an interface for internal communications and company resources, providing curated, personalized, and branded experience to the user including but not limited to, relevant news, conversations, the ability to participate in different social communities, and other resources similar to the intranet.
Microsoft Viva Insights
This tool provides data-driven, privacy-protected insights, and recommendations that help people and businesses thrive. Microsoft Viva Insights is aimed at reimagining employee experience by focusing on people, teams, and businesses to achieve balance, stay on top of priorities, and become resilient.



Microsoft Viva Learning
This is a learning hub enabling seamless integration of learning and building skills where your team can discover, share, recommend, and learn from content libraries that are provided by both your organization and partners, such as LinkedIn Learning and Microsoft Learn all while staying in Microsoft Teams.



Microsoft Viva Topics
Uses artificial intelligence (AI) to identify topics within your organization. Viva Topics compiles different resources and experts on different topics from Microsoft 365 tools as well as knowledge bases from platforms such as Salesforce. A "Topic Card" is displayed when an employee is unfamiliar with a topic, acronym, or specific term. These "Topic Cards" consist of documentation, discussion threads, videos, and experts related to the topic.


Key

Takeaway
Viva is Microsoft's employee experience platform with integrated learning, insights, communications, and resources.
Microsoft Viva Topics

integrates content management and organization.

Microsoft Viva Learning

embraces both formal and informal learning opportunities focused on empowering employees.

Microsoft Viva Connections

ensures team members are kept informed through an innovative engagement experience.

Microsoft Viva Insights

improves employee productivity and satisfaction with data-driven improvements in processes and policies.
To succeed in the market, it is important to focus on employee engagement and experience. In today's world, it has become more imperative to offer a good digital employee experience if you want to generate considerable revenue and grow your business. Designed for this new flexible and digital era of work, Microsoft Viva offers an employee ecosystem, where you can combine learning programs with collaborations to ensure your workplace's ultimate satisfaction and engagement.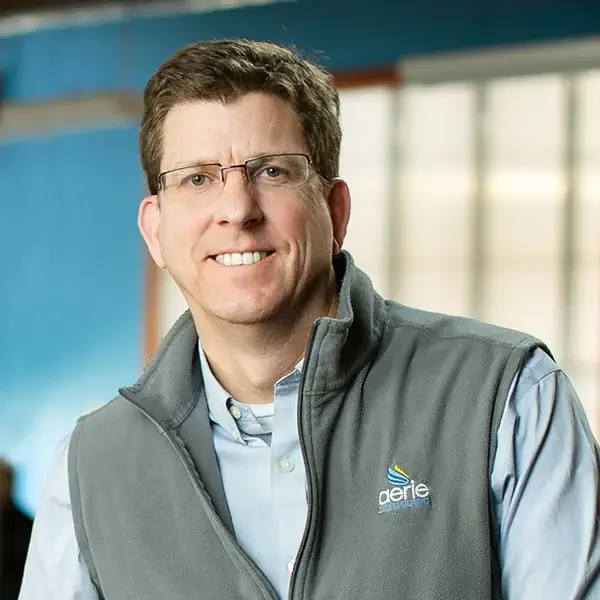 Dave Fisher
Currently based in North Carolina, Dave Fisher, Aerie's founder, plays a variety of critical roles at Aerie, from developing new business and managing client relationships to back-end office logistics. "I try to give our team the tools and atmosphere so they can do what they do best," he says. "I love how every project is unique — and it's fun going to companies, learning what they do, understanding their needs and challenges, then being part of their success."