When it comes to adopting Office 365, the most challenging step is often the first one. The biggest stumbling block many organizations face is licensing. Between different services and business plans, Microsoft offers about 80 licenses. Figuring out a plan for dozens or even hundreds of employees can be positively brain-frying, but we can give you a little perspective on the options.
Three Main Types of Office 365 Enterprise Licenses
A good place to start is to compare Microsoft's three pivotal license tiers: E1, E3, and E5.
Office E1
Often described as the "lightweight" version of Office 365, Enterprise 1 (or E1) includes email and calendar features, SharePoint, instant messaging and video conferencing with Skype for Business, and Yammer, Microsoft's workplace social media app. In addition, users get cloud storage with OneDrive for Business and access to the browser-version of Microsoft Office programs. E1 doesn't include an option to download Office on your machines.
Office E3
This tier includes everything you get in E1 along with some important upgrades, like the option to download and use Office apps "offline" on your devices (like Word, Excel, and PowerPoint). You can also encrypt files, back up data, and use other document management features.
Office E5
E5 is like E3 on steroids. The main difference is you have Power BI – Microsoft's business intelligence tool – to tie together the metrics measuring the health of your business. You also get additional security protections and VOip features in Skype for Business to replace your office phone system.
The difference in cost between these tiers is substantial. An E1 license costs $8 per user, per month, whereas E3 and E5 licenses cost $20 and $35 respectively. If your business has ten employees, the difference may not be a big deal, but if you have 200 employees, you will spend tens of thousands of dollars extra per year.
You can appreciate why a little discretion is advised.
Licensing for a Large Enterprise
The good news is Office 365 is flexible.
Not every employee will need the same capabilities as others, so you can get away with cheaper, basic licenses for some users while using more robust ones for others. This flexibility is great, but it can also make the process of determining what you need more complicated.
Figuring out licensing is a key part of every assessment we do with our clients, and the process gives everyone at the table a fresh perspective on how workflows are managed across the company and how the responsibilities of different groups of employees break down.
Here are just a few of the questions we ask:
Existing Software: What programs do employees use now? What frustrations do they have with these tools? Are there ways you'd like to see the quality of work improve?
Employee Collaboration: Which departments meet and work together on a regular basis? Are some team players located off-site?
Managerial Responsibilities: How many middle and senior managers are in the organization? Which of them establish protocols and grant permissions to rank-and-file workers?
Technical Infrastructure: Is your IT environment on-prem or in the cloud? Or do you have a hybrid solution in place? If your software is running on an internal server, when do those licenses expire?
By taking a deep dive into your organizational makeup and the processes in place today, you can take steps to improve these aspects without overspending on features you don't need.
Small Businesses Should Start Small
If yours is a small organization, don't be afraid to start small and scale up as needed. In most cases, Microsoft will require you to make an annual commitment. Since licenses bill on a per user, per month basis, you can easily waste a lot of money by purchasing 100 E3 licenses for employees that don't end up needing anything higher than an E1.
Instead of going all-in from the beginning, you could start most of your staff at the E1 level. As you move forward, you'll be better equipped to assess who needs extra features and who doesn't. Then, you can upgrade to E3 licenses on a case-by-case basis.
You can also try out higher-tier licenses—either by buying E3 licenses for "power users" in your organization or by trying out demo tenants for Office 365. Both options will give you a chance to test higher-level features, such as Skype for Business and SharePoint, and decide if more people in your enterprise need to have those features. Again, if you decide on upgrades, it's easy to jump from an E1 license to an E3.
Enterprises Benefit From a Consultation
Larger companies often benefit from working with a consultant. Talking to someone who knows Office 365 inside and out can help you understand your options and design a plan that makes sense for your business. After all, your company is moving to the cloud to achieve greater efficiency. Overspending is not in the game plan.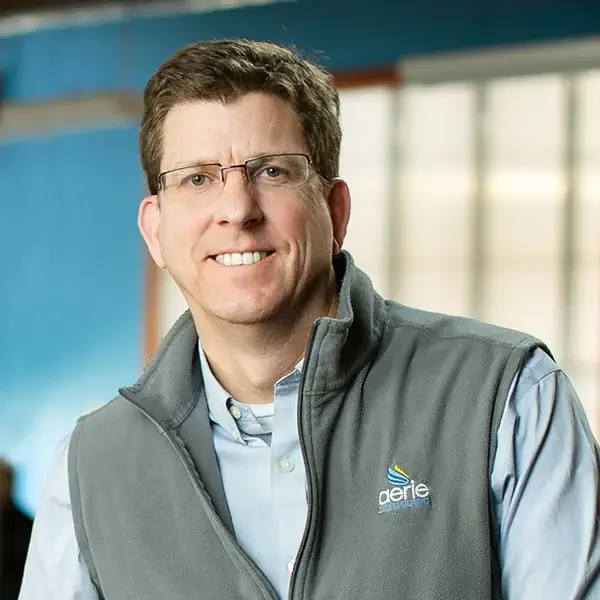 Dave Fisher
Currently based in North Carolina, Dave Fisher, Aerie's founder, plays a variety of critical roles at Aerie, from developing new business and managing client relationships to back-end office logistics. "I try to give our team the tools and atmosphere so they can do what they do best," he says. "I love how every project is unique — and it's fun going to companies, learning what they do, understanding their needs and challenges, then being part of their success."