"How much should I budget for a new SharePoint intranet?"
I wish there was a quick and easy answer to that question.
The truth is, costs vary based on several factors, but you can start crafting a budget by making a few decisions about what you need from your platform. Here are some of the biggest considerations that will influence what you spend.
1. SharePoint Online vs. On-Premises
The biggest impact on cost will depend on whether you go with an on-prem environment or SharePoint Online.
On-prem deployments have substantial upfront costs compared to the cloud. You will need to buy or lease servers, purchase and install SharePoint software, and get CALs (client access licenses) for each user. The servers will run $250 to $500 apiece per month to rent or roughly $10,000 to buy, and you'll pay about $100 to $125 apiece for each CAL, depending on which version of SharePoint you bought (Standard or Enterprise). In addition, you'll need to factor in about $7,000 per server for the SharePoint installation. For a small or mid-sized business with 25 to 50 employees, the upfront cost will probably fall somewhere between $17,000 and $40,000. After that initial hit though, you'll only pay maintenance costs and leasing fees if you are renting servers.
With SharePoint Online, you won't have to pay server costs, nor will you have to pay the hefty installation cost. Your primary expense will be a subscription to Office 365, which costs $12 to $15 per user per month for a standard Business Enterprise License, or you can buy SharePoint Online alone for $5 a month (Plan 1), or $10 a month (Plan 2).
The same business with 25 to 50 people would likely pay between $300 and $750 per month for Office 365 (including SharePoint) without the upfront costs of an on-prem deployment.
2. Configurations
SharePoint out-of-the-box doesn't cut it for most businesses. Successful intranets are tailored to accomplish specific company objectives, and that requires further configurations.
You can spend $10,000 to $100,000 or more for custom configurations and third-party features that make a SharePoint intranet more user-friendly. Large enterprises with complex collaboration and document management challenges usually need the most work, but regardless of the size of your company, you should plan on some configurations. Otherwise, you may end up struggling with end-user adoption.
You should also be aware that some third-party intranet solutions offered for SharePoint charge a monthly fee for each user on the platform. Our Accelerated Intranet has a one-time development cost with no monthly user fees (beyond your Office 365 subscription). You can add employees to your intranet as needed while also giving them access to apps like Skype and OneDrive for Business, Microsoft Outlook, Yammer, and all standard Office programs.
3. Outsourcing the Implementation vs. Insourcing
If you have an accomplished IT department on staff, you could hand the reins to them for configuration. It may save you money if they have the skills, time, and experience to configure SharePoint properly. If they don't, it's easy to miss important steps in the planning process that will have a real impact on adoption and performance later on.
If you choose to outsource the work, you will spend more upfront, but you won't have to worry about things getting done correctly. An accomplished SharePoint consultant will deliver what you need faster, and guide you through the onboarding process afterward.
4. Scope Of Configurations
Let's say you need some configurations on your SharePoint intranet and have decided to outsource the task to a third-party. What do you need to budget for this?
The answer depends on two factors: the scope of the configurations and the rates your consultant charges.
There is real value to custom design since it can make the platform look more engaging for end-users. You can also do some branding—such as adding logos and changing color themes. If you want more advanced configurations, you'll need to create master pages and page layouts, which will add to the cost.
You might also need some help setting up your search features. If you are dealing with thousands of documents, you need a managed metadata system to make everything searchable and discoverable. An expert can do this more quickly than someone learning SharePoint for the first time. You should expect to pay $150 and $225 per hour for between 20 and 600 hours of work, which would include adoption and training for your users.
Summary
SharePoint implementations vary significantly in price, with the average deployment for a small to medium-sized business costing anywhere between $10,000 and $150,000. Large enterprises are typically much more. Your best bet is to create a roadmap of what you want out of your intranet, then speak with a SharePoint consultant to find out what it will take to deliver. They will help you prioritize the work and find an efficient approach you can build on as your platform grows.
We have helped brands like Keurig Green Mountain, Subaru of Indiana, and Seventh Generation transform their workplaces into collaboration hubs using our Accelerated Intranet.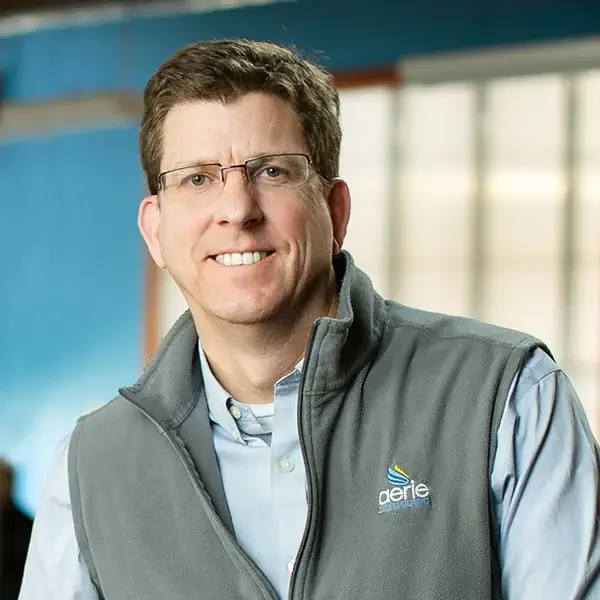 Dave Fisher
Currently based in North Carolina, Dave Fisher, Aerie's founder, plays a variety of critical roles at Aerie, from developing new business and managing client relationships to back-end office logistics. "I try to give our team the tools and atmosphere so they can do what they do best," he says. "I love how every project is unique — and it's fun going to companies, learning what they do, understanding their needs and challenges, then being part of their success."