Imagine this scenario: a factory manager sits down at their desk to read a capital expenditure request on an Excel spreadsheet, then sends an email to approve the request. The problem with this scenario starts with getting a factory manager to sit down, right?
Whether you're buying new office furniture or bidding contracts to build a multimillion-dollar factory, most companies have capital expenditures outside of the day-to-day budgeting process.
Often, capital expenditure approvals require Excel spreadsheets and antiquated PDF forms to be emailed back and forth between managers, controllers, and C-suite executives hundreds of times. When you consider that some of the approvals come from people on the factory floor or in the field—like our factory manager in the scenario above—this convoluted approval "system" is a recipe for disaster.
Successful enterprises must have a solution that allows all necessary team members to use a clear, mobile-ready app to track capital expense requests. The solution needs to offer at-a-glance understanding of the stages each request is in and the status of any open capital expense requests.
Common Challenges to Capital Expenditure Tracking
To stay current with industry advances, company growth, or personnel needs, most companies need to invest in capital expenditures at some point. In contrast to a business's everyday budgeting, capital expenditures present major tracking challenges to company management because CapEx budgeting processes are:
Unpredictable – You can budget for a factory expansion, but those costs may go up unexpectedly due to supply chain or labor issues. How do you track and incorporate cost overruns so that everyone in management is able to see and understand what's happening?

Hard to measure – The accounting process of identifying, measuring, and estimating capital expenditure costs can be complicated. How can you forecast for those costs effectively so managers and leaders can consider possible impact?

Time intensive – Many capital expenditure requests have multi-step approval processes that take time to complete. During the process, costs, depreciation, and market values may change the overall budget. How can you keep track of a process that requires a longer view while also managing day-to-day business?

Organizationally challenging – Since they exist outside of regular business functions, capital expenditures don't follow the usual business process and can often feel like no one "owns" them. Countless emails and spreadsheets can be passed around in a multistep approval process and easily fall through the cracks. How can you keep a CapEx request process moving forward efficiently?

Intimidating – Whatever the request, capital expenditures are usually expensive. Companies need to spend the money and hope that the benefits are worth it. How can you best ensure that the process leads to a successful outcome?
Successful Capital Expenditure Tracking with Office 365
While capital expenditures may seem overwhelming at times, Office 365 products can create a digital solution for your request and budgeting process, which will reduce anxiety and ultimately increase efficiency.
Imagine an app-based digital dashboard that provides everyone with clear, up-to-date, and transparent information about the request/approval process. A digitized process ensures everything is controlled and no piece falls through the cracks. An Office 365 CapEx app will improve your process and give you peace of mind by being:
Easy to read – First and foremost, a CapEx app produced through Microsoft 365 will be easy to read. Clear, color-coded request and approval stages will provide at-a-glance legibility—no more digging through a ton of emails or needless follow-up.
Transparent – A CapEx app allows everyone to see how the process is proceeding. Different dashboards can be created for managers and C-suite leadership, but an app provides clarity for all involved.

Centralized – A CapEx app acts as a repository for all request and budgeting information. No longer will people have to hunt down the latest version of the Excel spreadsheet. Everything is attached and available through the app.
Responsive – A CapEx app tracks and responds to meta data, allowing administrators and users to view the capital expenditure budget they have available for the year, create requests from that resource, and see the process play out in real time.

Automated – A CapEx app automates tasks in order to keep the process moving forward. Once an approval has been made, an automated email alerts the next person in the approval process and even allows them to make "lazy" approvals or requests for more information directly through the email.
Portable – A CapEx app can be accessed through Teams or any mobile device. That means a factory manager or field representative can participate in the request and expenditure process without ever having to sit down at a desktop computer.
Conclusion
While capital expenditures can be a source of anxiety, the request and approval process doesn't need to be. It's time for your capital expenditure process to emerge from the Dark Ages of endless emails and spreadsheets.
At Aerie, we can work with your company to create a Microsoft 365-based app for your capital expenditure request and budgeting process that will improve efficiency, accountability, and productivity.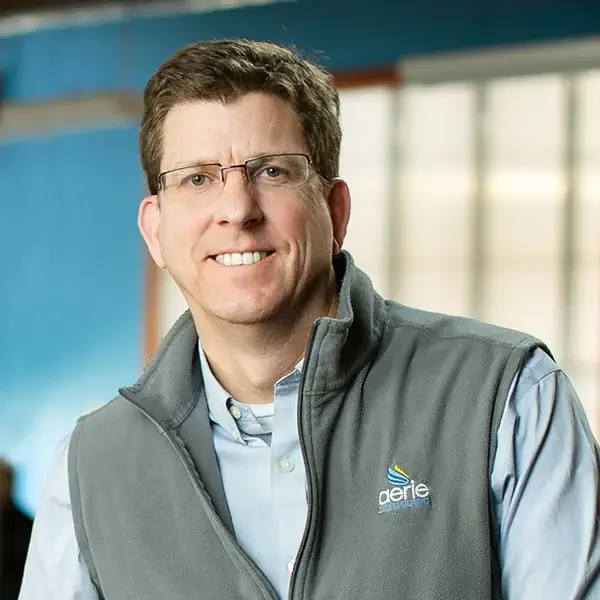 Dave Fisher
Currently based in North Carolina, Dave Fisher, Aerie's founder, plays a variety of critical roles at Aerie, from developing new business and managing client relationships to back-end office logistics. "I try to give our team the tools and atmosphere so they can do what they do best," he says. "I love how every project is unique — and it's fun going to companies, learning what they do, understanding their needs and challenges, then being part of their success."