Remember when your corporate CRM was used only for improving the customer experience?
You should. It wasn't that long ago.
Even though they are still the backbone of a lean, efficient service and sales operation, CRMs can and should do much more for your organization.
They should connect every department with real-time data sharing, task management capabilities, and actionable insights that keep you one step ahead of your competitors. Customer experience is still king, but now every department plays a vital role, and if your CRM is not unifying the processes between them, you may experience some of the following frustrations.
Context is Missing from Customer Interactions
Think of how your best personal relationships have developed over time. You built a rapport with people through common understandings and a shared history, and these same principles apply to creating strong relationships with customers.
When people feel like your company understands their needs and works proactively to address them, they will put you on a very short list of trusted partners.
Service calls are a great example of where a CRM can make or break a relationship. When was the last time you had to sit through a series of calls with customer support, trying to resolve an ongoing problem? Remember how frustrating it was to feel like you are starting over with every new person you got on the phone?
A high functioning CRM should not only keep a detailed record of prior calls, but also channel insights from other areas that will accelerate problem solving.
Customer complaints are great relationship building opportunities, because prior experience with other businesses has trained clients to expect crappy service. When information flows easily throughout your systems, enabling personnel to get up to speed quickly and resolve challenges, you can turn a happy client into a brand evangelist.
CRM and ERP Don't Work Together
Your CRMs and ERP should walk hand in hand, strengthening efficiency across the organization.
When an employee updates a customer record, the data flows to finance, sales, accounting, and any other departments that depend on relevant, real-time information. When a problem occurs, the system should alert other departments that are impacted.
While ERPs and CRMs focus on different aspects of profitability, they work in tandem to achieve a healthy business. A CRM maximizes client acquisition and retention, while the ERP reduces overhead and increases efficiency.
Here are just a few of the applications a modern CRM, like Microsoft Dynamics 365, can do for your organization:
Sales – managing prospects and opportunities, forecasting revenue and monitoring goal achievement, social selling and content creation.
Marketing – creating buyer personas, optimizing customer experiences, collaborating with sales teams to accelerate business outcomes.
Field Service – scheduling and dispatching personnel, flexible resource allocation during escalations, and reducing the time spent resolving issues.
Project Service Automation – improving the customer experience through automated service deliveries, enabling data sharing among employees for a holistic view of client needs, getting intelligence to respond to changing priorities.
Finance & Operations – aligning finance and operations data for predictive insights, which helps your organization stay agile in a competitive market.
Custom App Integrations Are a Hassle
Business management systems, like CRMs, address many enterprise requirements, but not all of them. Sometimes companies have industry-specific needs the technology cannot fulfill out-of-the-box.
These needs might include dashboards, processes, charts and other functions your organization relies on to get things done. A good CRM will make these custom apps easy to integrate or build into your platform.
Microsoft offers an App Source with more than 200 products from trusted and verified third-party vendors. You can embed them into your system, or use the app designer to create your own.
Difficult to Scale
A cloud-based, app-centic CRM makes it easy to pick and choose the services you need today, and add more as your needs change.
This flexibility is key for every growing business. There's no reason to pay for features you don't need. Instead, you can focus on resources that will make the greatest impact on your business today, so you can get to the next level.
"Silo Apps" Are Weakening Performance
Too many companies try to cobble together a business management solution on their own, attempting to link disparate apps to their CRM instead of using one system where all components work together. When employees have to switch between apps, you lose speed, efficiency, and sometimes valuable data.
Resources and workflows should be consolidated within your CRM. Anything less than that is going to make everyone's job harder.
Like every all business enhancing tools, a CRM should do more than just improve communication. It should have a measurable impact on performance – reducing costs, eliminating waste, improving retention, and speeding up growth.
When you have clear evidence your CRM is turning processes into competitive advantages, you'll know you've found a winner.
Want to Get More Out Of Your CRM?
Find New Opportunities For Growth with Dynamics 365.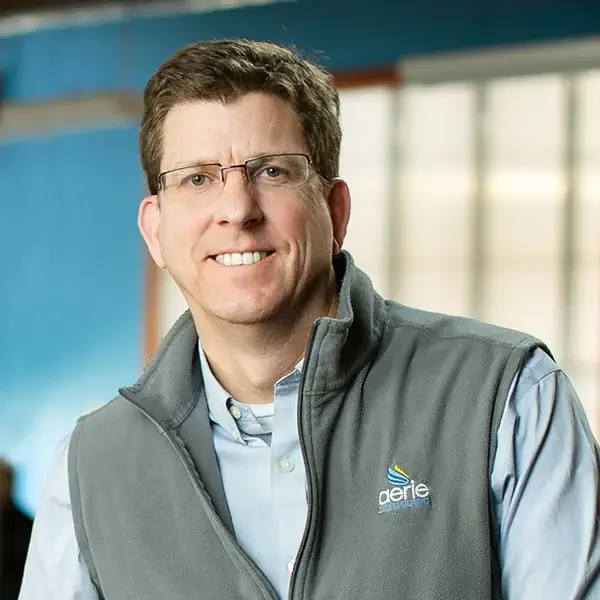 Dave Fisher
Currently based in North Carolina, Dave Fisher, Aerie's founder, plays a variety of critical roles at Aerie, from developing new business and managing client relationships to back-end office logistics. "I try to give our team the tools and atmosphere so they can do what they do best," he says. "I love how every project is unique — and it's fun going to companies, learning what they do, understanding their needs and challenges, then being part of their success."