How much time to you spend every day just getting ready to work? No, I'm not talking about spiffing up in front of a mirrorbefore running out the door and spilling coffee on your shirt. I'm referring to the mundane tasks we spend gobs of time on at work which aren't even on our to-do lists, like sorting through email, scheduling and rescheduling meetings, and trying to find that report you just saved a day ago.
The more responsibilities we take on in the workplace, the more time we waste just trying to stay organized. But here is the good news. Office 365 can help you shed a lot of these distractions with simple, yet powerful collaboration tools.
Office 365 Groups
Getting things done today involves working with multiple groups and project teams. This can throw your inbox and file storage system into complete and utter chaos. No matter how organized some employees are, you can bet most of them waste a lot of time managing emails, documents and calendar items.
Office 365 Groups eliminates this hassle by enabling people to create separate communication channels for different projects. Someone who is spearheading a new research team can create a group in Outlook and invite people to join it within seconds. Once established, the group gets access to a shared inbox, calendar, file repository and Notebook to manage the project in.
Team members working out of the office can also participate on mobile devices, editing documents and messaging other members as needed. They can even bring other teams into the discussion by tagging them, similar to how people tag each other on Twitter.
Skype For Business
Skype for Businessis the worldwide standard for corporate video conferencing, allowing you to connect with colleagues faster and easier than ever before. You can use this app to meet with one coworker or create a conference with hundreds of people, and it comes with end-to-end security and compliance capabilities.
Yammer
Yammer is a social network customized to your business. It has a look and feel similar to Facebook, sporting a Newsfeed with the latest posts (which you can "like") and an area for private messaging. Users can also create groups for closed discussions, as well as communicating with the entire company. With Yammer, users can upload and share files in a content repository and create collaborative pages in a group.
Yammer includes a People Directory with a searchable database of every person using your company platform. Users not only input contact info in their profiles, but also their skill sets. You can search for a specific skill and instantly get the right person to talk to. Best of all, Yammer integrates well with other apps, like SharePoint and Salesforce for instance.
SharePoint Online
One of the key components of Office 365, SharePoint is a web-based collaboration and document management tool you can use to build an internal website, called an intranet. These platforms are revolutionizing the way people work by simplifying processes, distributing news, and managing important documents.
Power BI
Senior executives have to manage multiple data sources on a daily basis – from sales and marketing software, to CRMs, to financial reporting – and trying to generate good business insights is challenging even on a good day. Power BI is a suite of tools that present your most important data in compelling visual graphs and charts, making it easy to capture the insight you need and share it other others on the team.
Office 365 is a multi-layered platform that simplifies communication, improves workflows and enables users to work using any device. It enables people to focus on work that matters, bringing ideas to fruition rather than struggling with tools that help us manage our day. What could be more worthwhile than that?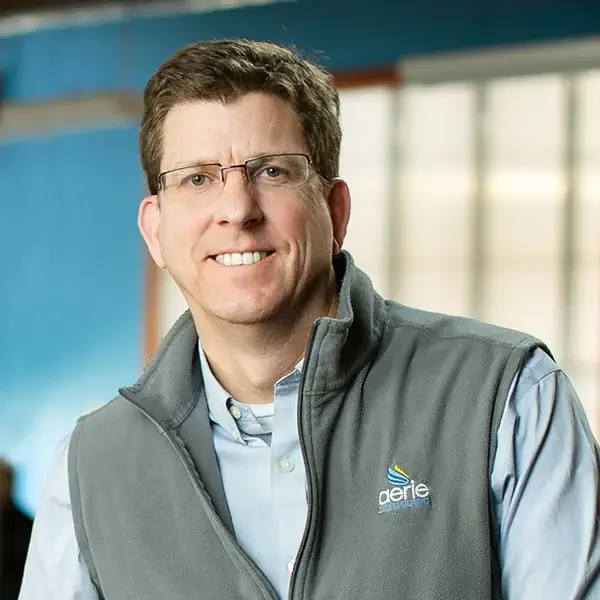 Dave Fisher
Currently based in North Carolina, Dave Fisher, Aerie's founder, plays a variety of critical roles at Aerie, from developing new business and managing client relationships to back-end office logistics. "I try to give our team the tools and atmosphere so they can do what they do best," he says. "I love how every project is unique — and it's fun going to companies, learning what they do, understanding their needs and challenges, then being part of their success."