If you are shopping around for a customer relationship management (CRM) system, it won't take long before you stumble across two of the leading mega-vendors in this space: Microsoft Dynamics and Salesforce.
These two heavyweight vendors look similar in many ways. They both offer multi-channel sales and service management, including marketing automation, service and support applications, and social interactions with customers. With so many similar features, it can be hard to differentiate between the two.
Full disclosure time: We are a Microsoft partner and Office 365 solutions provider, but that doesn't mean we think MS Dynamics is the perfect tool for everyone. We know these two platforms well enough to give you a comparison so you can decide what's best for you.
Cost And Packaging
When looking at costs, you will find differences between the two right off the bat. Dynamics CRM costs less than Salesforce, and packages it's applications differently as well.
Salesforce Sales and Service Bundle Costs
Salesforce is driven by web-based applications that customers can choose ala carte or combine into a single solution. The first is Sales Cloud, a module that includes lead, contact, opportunity, and products and campaign management. This is where managers and employees can track leads in the sales pipeline, identify opportunities, forecast revenue projects, and other important tasks.
The second module is called Service Cloud, a place where customer service tasks are managed. Customers also have the option of adding marketing automation through Pardot, a premium, though costly marketing cloud portal.
Salesforce's cloud deployment fees include a per-user login monthly subscription fee, and requires an annual contract. You may also face additional upfront costs for integrations, data migration, and customization work.
Dynamics CRM Online Professional Costs
Microsoft's signature CRM service, Dynamics CRM Online Professional, combines sales and service into one platform that costs less than Salesforce. You will have to pay extra for some service related features, like web chat and social customer interactions. Marketing automation is also an extra investment, although you can purchase a higher tiered package that includes everything in one solution.
Dynamics costs charges a per-user monthly login fee for cloud deployments, or an upfront per-user license for on-premise implementations. Cloud subscriptions are monthly expenses and don't require an annual contract. On-premise deployments require license agreements that allow you to use the software in perpetuity.
Both Salesforce and Dynamics charge fees for premium support, and companies who opt for Dynamics on-premise should expect to pay for periodic system maintenance.
Key Differences Between The Two
Hosting
As mentioned, Salesforce is a cloud-based platform, just like Dynamics, but if you'd rather use private or on-premise hosting is a priority, Dynamics is the only one that offers this flexibility.
Setup and Customization
While people spend more on licensing for Salesforce, they often need less consulting during the initial setup and implementation of the platform. Salesforce users often can get rolling on their own, but eventually need help with integrations and customization. As a result of this easy setup, you will find that Salesforce offers limited customization options, which many users do not like.
Dynamics, on the other hand, is not quite as intuitive out of the box, so be prepared for some training during the setup and implementation. The upside of this is that you do have a lot more freedom to customize the platform to your company's needs.
App Marketplace and Integrations
Industry-specific applications is one area where Salesforce excels. Its AppExchange has a large community of programs that allow you to optimize your CRM according to industry-type. Dynamics also has a growing app marketplace, although not nearly as expansive as Salesforce.
One advantage of Dynamics is that it integrates with the Office 365 product suite, tying it in with Microsoft's expansive array of apps that enhance office collaboration and efficiency. One example is the way you can link emails and calendar items on Outlook to Dynamics without leaving the program. Salesforce has an Outlook Exchange add-in, as well, but you have to keep the CRM open in a different pane.
If easy integration with your other core Office applications is a high priority, you may want to consider using Dynamics.
Dynamics and Salesforce are two of the most popular CRM systems for a good reason – they provide awesome tools that make building and maintaining customer relationships easier than ever. The above comparison hopefully gave you a high-level understanding of the differences between the two, but the best way to determine which CRM is right for you is by talking to a consultant about your sales and service processes, and nailing down the features that will take your company into the future.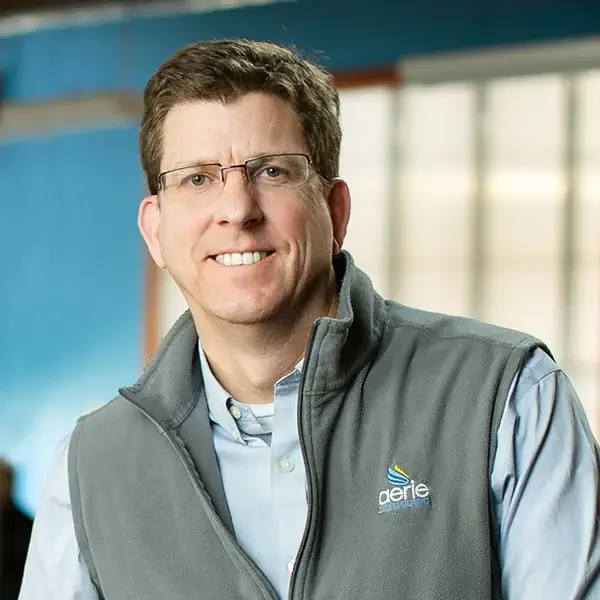 Dave Fisher
Currently based in North Carolina, Dave Fisher, Aerie's founder, plays a variety of critical roles at Aerie, from developing new business and managing client relationships to back-end office logistics. "I try to give our team the tools and atmosphere so they can do what they do best," he says. "I love how every project is unique — and it's fun going to companies, learning what they do, understanding their needs and challenges, then being part of their success."