Intranets come with all kinds of bells and whistles these days.
Want a social newsfeed? You got it. Media gallery? No problem! But as you plan your deployment, keep in mind there are a few "must-have" features every intranet should have. These components often mean the difference between a productive, dynamic portal and one that tanks.
Responsive Design
SharePoint is not responsive out-of-the-box. If your company has a mobile workforce, your intranet must be responsive.
If you plan to execute the project in-house, you need make these decisions before starting the actual work.Your platform will have a mobile feature you can turn on, but it's not intuitive to use. To achieve a truly responsive design, you need to look beyond the boilerplate features and bring in a consultant (like us) that has experience with Office 365. A SharePoint consultant will not only help with design, they can also help you plan the desktop experience with mobile in mind.
Information Discovery
Information discovery is a major challenge, especially for large organizations.
If you have tens of thousands of documents or more, figuring out a way to catalog it so people can find what they need is no small feat. In SharePoint, this involves configuring managed metadata. You can also use TermStore and SharePoint's content type feature to build an intuitive and comprehensive taxonomy for your files.
With content types, you can require anyone uploading a new file to add a specific category—such as invoices, presentations, or year-end reports. Each content type requires people to fill in certain fields or metadata columns before uploading to a document library. For instance, someone adding a year-end report might have to specify what account the document is for and who needs to sign off on it. By tagging these pieces of information to each file, SharePoint's managed metadata system lets you build a search taxonomy that makes finding documents effortless.
TermStore is a hub used for managing the terms, or metadata, for each content type. It's a backend tool that allows you to manage the information at the site collection level rather than at the document library level. This allows you to apply the same content tagging rules across multiple sites and document libraries, rather than forcing you to configure them for each individual library.
You can also use TermStore to apply navigation strategies to your entire SharePoint site collection. By managing the navigation at the top level, you can make sure everything is standardized. This will require some coding, but it's well worth it if you want to create a more intuitive and uniform navigation strategy for your intranet.
Knowledge Sharing
When you can't effectively share knowledge across the organization, you are not fully leveraging your portal. SharePoint is perfect for knowledge sharing. Not only can you set up team sites for project collaboration, you can also configure the platform for sharing documents and files.
How you facilitate knowledge sharing is up to you. If your team is familiar with Yammer, you can integrate Yammer feeds right into your SharePoint sites. You can also use Newsfeed—essentially a stripped-down, out-of-the-box version of Yammer—to share files right in the SharePoint environment. From there, users can easily share documents with other team members by sharing them on the intranet and tagging recipients.
Seamless Content Management
SharePoint is a powerful collaboration tool, but you have to figure out how multiple people will work on the same files.
One option is to require users to check-in and check-out of documents so no two people are editing the same file at the same time. You can also allow co-authoring, where multiple people can edit the same file at the same time, and their respective changes load into the document in real time. Both options are effective to prevent saving over changes, and you can always choose the version your team prefers.
Secondly, you should enable versioning at the document library level. With versioning enabled, you can easily revert to earlier drafts of a document for reference or later use. You can also make major and minor versions of documents to keep information secure within the intranet. Minor versions are only visible to users with certain permissions, allowing a document to be kept confidential until you are ready to unveil it to a broader subset of users. Major versions are final versions of a file, which are visible to everyone with read permissions.
Dynamic User Experience
By leveraging Active Directory or Delve (a tool in Office 365), you can create home sites on your intranet that adapt to suit specific users. When a user logs in, SharePoint can pull information from employee directories and from that user's account to determine which information to show on their home site. This customized information may include documents related to the department the user is in, contact information for other team members, and other useful shortcuts.
Integration With Other Office 365 Apps
You can also set up a single sign-on feature so users can log in to your intranet and get access to various integrated apps at the same time. As the need to accomplish more with your portal grows, it's important to allow people access without having to login repeatedly.
There is no one-size-fits-all approach to building a company intranet. The best results always come by assessing organizational needs and creating a plan that addresses them all. Regardless of the size and scope of the platform, these features will help your team work more efficiently and reach their greatest potential on Office 365.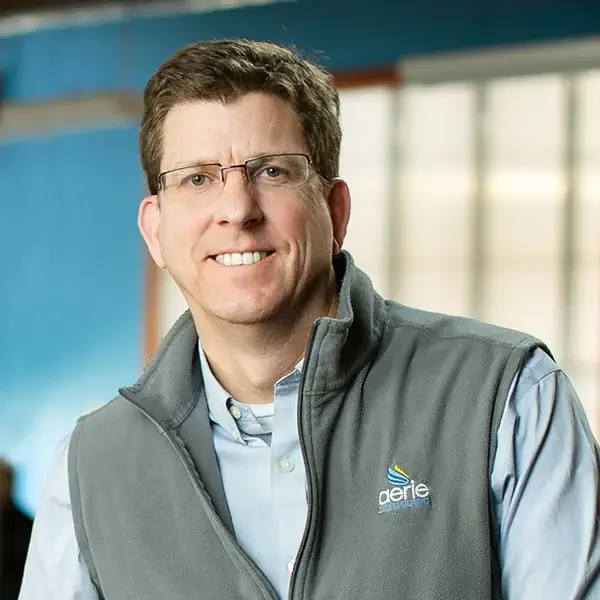 Dave Fisher
Currently based in North Carolina, Dave Fisher, Aerie's founder, plays a variety of critical roles at Aerie, from developing new business and managing client relationships to back-end office logistics. "I try to give our team the tools and atmosphere so they can do what they do best," he says. "I love how every project is unique — and it's fun going to companies, learning what they do, understanding their needs and challenges, then being part of their success."