It should be no surprise that Microsoft is pushing OneDrive for Business as the central location for users to store their documents. As a part of Office 365, OneDrive for Business lets you update and share files in the cloud. The benefit is obvious, you can always access your files no matter where you are. Storing your files in the cloud, replaces the threat of losing your files if something happened to your file system on your computer.
---
The introduction of Delve into SharePoint is helping Microsoft support this. Delve, is tool inside Office 365 that discovers content that most likely interesting to you right now. It's a powerful interface that can show you documents all across your SharePoint environment as well as your OneDrive for Business.
So why is Microsoft pushing so hard to get us to store our content in OneDrive. Well its rather simple really.
Safety - Storing your files in OneDrive will allow you to recover your data even if you somehow lose your hard drive.
Convenience - Easy access to your content is at the forefront of document management. We have seen with the huge influx of users in both Dropbox and Google Docs that cloud access to documents is becoming increasingly important. You shouldn't have to search all over the place to find your documents!
Discoverability- By using Office365/SharePoint technology, we can surface this information in a way that isn't painful for the end user. Technologies like Delve allow the user to find documents rapidly and efficiently.
But what about SharePoint lists? You are probably asking yourself about all the thousands of documents that your company is currently storing in Team Sites. Should you move this content to OneDrive?
The quick answer is NO! While it would be easy to put all of your files in OneDrive for Business, it is not a replacement for SharePoint lists. If a document is a collaborative document related to a project or a team,then saving documents to a SharePoint list is a much better way to go. You should think of OneDrive for Business as your personal file store in the cloud, which replaces your MySites profile in SharePoint and Office 365. While you can add permissions to this content and share your documents with others, overtime this will become cumbersome and tedious to manage.
When Microsoft says to use OneDrive for Business vs Team Sites
OneDrive for Business is better suited when...
You do not have any plan to share content with others.
You do plan to share them but the document life cycle is short.
There isn't an existing place in your SharePoint/O365 environment to store them.
Team Sites are better suited when...
A document is meant to be shared with others. You can spread permissions to more people and will be easier to manage in a team site.
Other related project documents exist, you should store them together.
You want to create a check-in workflow for document approval.
---
While I understand the value of having quick access to your documents in OneDrive for Business, team sites still hold their value. Storing documents in the cloud is a great benefit for the end user, but the functionality you get from team sites improve business function.
Out of the box technologies in SharePoint and Office365 making tagging,finding,editing and sharing content a breeze. While OneDrive for Business gives you a location to store your content, SharePoint/Office365 give you the tools interact with your content in an effecient manner.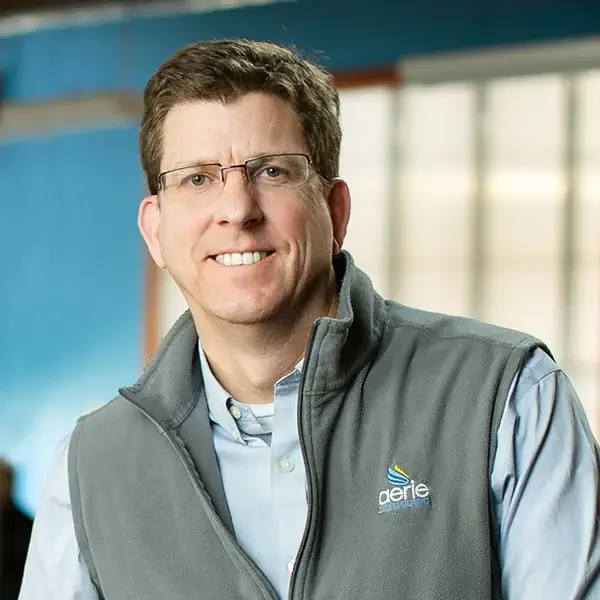 Dave Fisher
Currently based in North Carolina, Dave Fisher, Aerie's founder, plays a variety of critical roles at Aerie, from developing new business and managing client relationships to back-end office logistics. "I try to give our team the tools and atmosphere so they can do what they do best," he says. "I love how every project is unique — and it's fun going to companies, learning what they do, understanding their needs and challenges, then being part of their success."