In today's digitally driven world, organizations are seeking ways to streamline their operations and improve their efficiency. A common goal is to create role-based collaboration solutions that are built using existing licensed technology, accessible on any device at any time. By leveraging the power of Microsoft products and technologies, this goal is very much achievable, and... it doesn't take a rocket scientist or a brain surgeon to figure it out!
Crawl.
Infrastructure & Security
The first step towards achieving digital transformation involves migrating to cloud resources. Microsoft Azure, Microsoft 365, and Dynamics 365 offer the ideal platforms for this transition. By moving email and documents to the cloud, your organization can provide staff with the ease of use they desire and build additional productivity applications to foster collaboration and streamline business processes. The addition of single sign-on across applications allows teams to switch between apps quickly, enhancing productivity.
Walk.
Communication & Collaboration
One challenge many organizations face is the inconsistent storage of documents across various locations. To overcome this, clear guidelines must be established regarding where documents should reside, and these guidelines must be communicated to all staff.
Additionally, employees should be provided with a single enterprise search center to locate the documents they need. Microsoft Teams, powered by SharePoint, serves as a unified portal for discovering documents and content, eliminating the need for staff to know where documents reside when searching for them.
Run.
Digital Process
Overly complex and manual processes can hinder productivity. Investing in creating applications throughout the organization, both company-wide and team-specific, can support daily business workflows. Small-scale applications, when integrated with other tools like Dynamics 365, Power Apps, and Power Automate, provide staff with a suite of tools to complete their work quickly and efficiently.
Fly.
Business Operations
Data is the fuel that drives business improvements. Many teams desire customized dashboards that display the data they need. There's also a need to validate data across systems through business intelligence (BI) to reduce inconsistencies. By leveraging the capabilities of Azure IOT, AI, and Power BI, organizations can structure, collect, analyze, and report data effectively. Gathering data from as many sources as possible creates a robust model that includes multiple sources and generates specialized reports from that data. Training should also be conducted to develop in-house report writers to support the growing needs of the organization.
It ain't rocket surgery!
Embarking on the journey of digital transformation might seem challenging, but with the right approach and Microsoft's robust capabilities, it's entirely achievable. If you haven't transitioned to the Cloud yet, or need additional help, Aerie can assist you in this process. Our process will meet your budget timeline moving from a traditional infrastructure to a cloud-based one. Over time, we've developed a successful progression model implemented with hundreds of clients, and all you need to do is choose an area for enhancement.
Our dedicated team, comprising an account manager, project lead, business analyst, and solution engineer, will diligently work within your set budget. This investment could propel your business into the cloud realm within 4-6 weeks, revolutionizing your operations and leading to improved efficiency, collaboration, and data-driven decision making.
Contact Aerie today and elevate from Ground to Cloud. With Aerie, you're not just getting a service, but becoming part of a community that values power, positivity, and real solutions.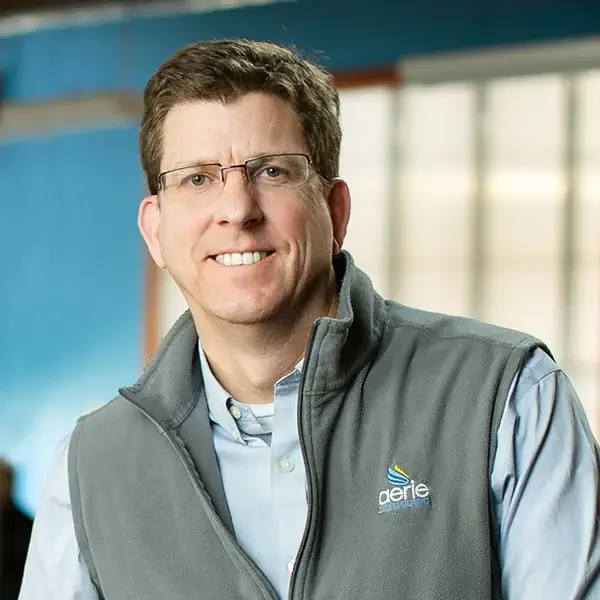 Dave Fisher
Currently based in North Carolina, Dave Fisher, Aerie's founder, plays a variety of critical roles at Aerie, from developing new business and managing client relationships to back-end office logistics. "I try to give our team the tools and atmosphere so they can do what they do best," he says. "I love how every project is unique — and it's fun going to companies, learning what they do, understanding their needs and challenges, then being part of their success."