We've created a unique problem for ourselves in business today. While striving for a clear, bird's-eye view of sales reports, project updates, and other KPIs, we've buried ourselves under an avalanche of data. Instead of simplifying our work with insightful information, we've ensnared ourselves in a complex web of data streams, and IT gets to figure out how to stuff it all into standardized reporting that's actually useful. Lucky them.
This costly, time consuming process is putting enormous strain on internal resources, as well as C-suite executives who needed the data yesterday. Microsoft Power BI will help you sweep aside this waste of time and money in one stroke.
What is Power BI?
Power BI is a cloud-based business analytics suite provided by Microsoft. It gives you one place to view your most important business data through rich visualizations and interactive reports. Instead of wasting time creating visuals in Excel or PowerPoint, you simply log into Power BI and check out the graphs and reports created on your personalized dashboard.
Not only does Power BI simplify your data analysis needs, it also reduces business expenses.
Smarter, Faster Decision Making
Business intelligence depends on creating actionable insights from raw data. As a component of Microsoft's Office 365 suite, Power BI Desktop brings a new level of productivity to data collection and analysis. The entire product suite is designed to bring multiple data sources into one place and empower you to make faster and better decisions based on real-time information.
Senior managers can use this high-level information for a variety of purposes, from business forecasting to project management to performance evaluations. Power BI's visualized data will give you quick and efficient insights into emerging trends.
Easier Way To Share Data
Creating report templates for your organization is easier than ever, using SQL Server Analysis Services. This tool offers you a scalable platform where you can build standardized templates to deliver your data across the company. In addition, you can easily share data with others on any device using Power BI on the web.
With the ability to instantly share data with key team members, you can reduce the time spent on creating and distributing reports, while also increasing employee access to critical information.
Less Dependence on IT
Merging multiple data streams into a report used to be a drain on IT resources. Not anymore.
Power BI is a self-serve tool with drag-and-drop functionality, allowing end-users to create reports that give them fast answers. Your dashboard can link more than 50 connections to your most important business apps, eliminating the need to bring in IT whenever you need to create a new chart or report.
Business intelligence drives enterprise in today's world. Good decisions are backed by reliable data, but the more time you waste extracting the knowledge that exists behind the numbers, the harder it will be to put those insights to work for you. If you aren't finding smarter ways to manage data – your competitors will. You can bet on that.
Business intelligence should be easy. It's the decisions you make that matter. Let's make them count, starting today.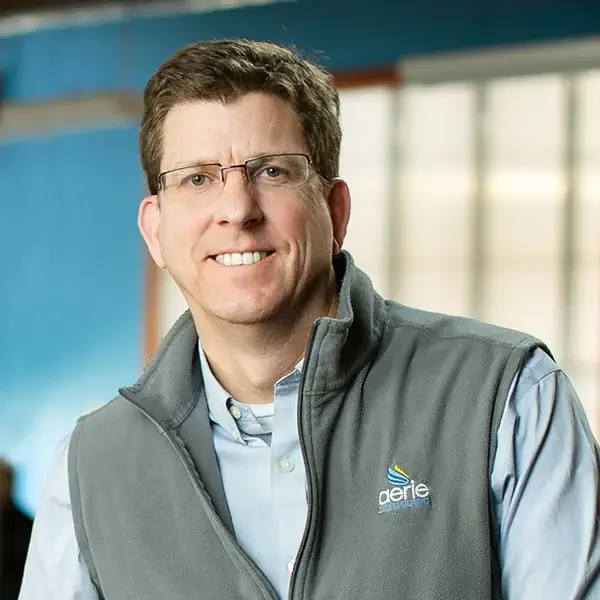 Dave Fisher
Currently based in North Carolina, Dave Fisher, Aerie's founder, plays a variety of critical roles at Aerie, from developing new business and managing client relationships to back-end office logistics. "I try to give our team the tools and atmosphere so they can do what they do best," he says. "I love how every project is unique — and it's fun going to companies, learning what they do, understanding their needs and challenges, then being part of their success."