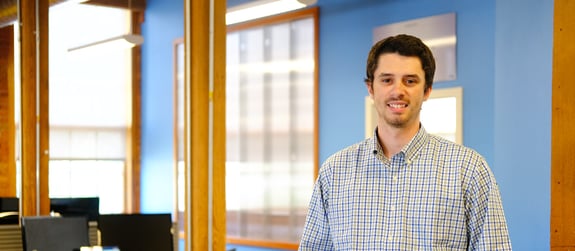 John Thibeault
Solution Engineer
Coming from a customer experience-focused job at Play-It Again Sports, John can listen to clients' needs and translate them into personal solutions. As the head groundskeeper at the VT Lake Monster's Baseball Field, John brings grit and hard work to the Aerie team. 
As a solution engineer, John works with clients to troubleshoot issues related to general Microsoft challenges and resolves them by building custom solutions. He is always improving existing solutions and innovating new strategies. With his expertise in SharePoint as the Managed Cloud services engineer, he is constantly improving and working to make applications function better together. 
One of John's favorite aspects of Aerie is the comradery of his team. "My coworkers are always challenging me to improve whether it's related to Microsoft or on the ping pong table." With John's knack for problem-solving and drive toward solving challenges, he has become a valuable addition to our behind-the-scenes team. 
"The power of the Microsoft Cloud allows businesses and people able to experience an unlimited range of possibilities around business solutions."