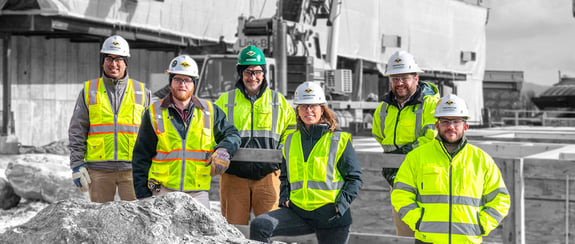 Our work for
PC Construction
Power Apps

Power Automate

SharePoint
Improved information security and onboarding efficiency
About PC Construction
PC Construction provides general contracting, construction management, and design-build services to private and public companies across the country. With more than 1,200 employees, smooth onboarding for employees and HR efficiency is crucial.
The Challenge
PC Construction's onboarding process involves implementing a wide range of benefits that vary from one new hire to the next. Each new employee triggers a complex workflow internally. One new employee might receive a company car, a signing bonus, and an iPad, while another might receive a company credit card, a vehicle stipend, and a salary adjustment after a certain number of days.
Details were getting lost in the transfer of information and a new hire might show up to their first day of work and find themselves without a fully-equipped work station. Sometimes a scheduled review and salary adjustment would go unnoticed as well. "We wanted to make sure that never happened again," said Lessor.
New employees were also spending half their first day of work jumping through HR hoops rather than putting their skills to work. "Before Aerie, employees were filling out forms that asked for the same information over and over," said Lessor.
Complicated hiring details created room for human error and tricky paper trails. PC Construction wanted to streamline this process and make sure new employees had a seamless experience as they joined the company, and then continued with ease whenever they needed to access or change workplace benefits and documents.
The Microsoft based application Aerie Consulting would build for them needed to ensure that a new hire's specific benefits and employment paperwork was not only captured in the company's system efficiently, but also delivered and tracked over time without error.
The Solution & Results
Now, when a new employee begins the onboarding process, the information inputs are filtered to the appropriate departments—such as IT, HR, accounting, and project personnel—for processing via the Microsoft on-boarding app.

A secure employee profile is created in record time. "New employees come to work and have maybe a 30-minute intro, so now they're productive right away versus wasting anywhere from 2-4 hours on day one," said Lessor.

The new automated process for bringing the new employee on board works just as the company hoped it would. "With Aerie's onboarding app, nothing falls through the cracks. No one has to remember to put workflow notifications on their calendar. There's no individual person where the process can breakdown because everything is done by automatic distribution lists," said Lessor.
Working with Aerie Consulting for a second time on a Microsoft solution proved worthwhile. The dialogue was open, and their professionalism and knowledge were invaluable. "I'm never looking for a one-hit wonder," said Lessor. "Aerie is a long-term partner. If I have another process request, I can go back to them and say, 'You guys did a fantastic job on this, I have another scenario, what do you think?' They know PC Construction, and I won't have to explain our industry."
"Thanks to Aerie's onboarding app, we have been able to streamline the process and provide new employees with a 30-minute introduction. This has enabled them to start being productive from day one, rather than wasting 2-4 hours on orientation."

Unlock Possibility
Get in touch with one of our experts today to explore the best solution for your business.