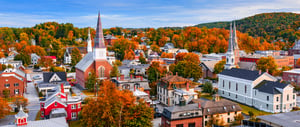 Our work for
The Richards Group
Business Application Services
Modern Corporate Communication Platform: Intranet on Office 365 and SharePoint
About The Richards Group
The Richards Group is a family-owned independent insurance, employee benefits, and financial services firm founded in 1867. While they have certainly grown since then, their commitment to exceptional service and creative protection solutions remains the cornerstone of their business model. Their team of roughly 148 insurance professionals now serves more than 20,000 clients located throughout Vermont, New Hampshire, and Massachusetts.
The Challenge
With 14 offices around New England, The Richards Group was looking to simplify organization-wide communication and create an online portal employees *wanted* to explore. A legacy intranet in place for years contained stale content and didn't reflect the culture or diversity of The Richards Group team. The Marketing and Information Technology teams wanted to ensure the Intranet was architected with the future in mind, but didn't want to overspend on technical implementation costs.
The Solution
The Richards Group leveraged Aerie's Intranet Starter Kit to ensure a new Intranet was both compelling for employees, and scalable for the Information Technology team.
The Starter Kit includes a foundational set of guidance to ensure an Intranet is configured and deployed with Microsoft's best practices in mind. It allowed The Richards Group to take on project tasks suited to them while outsourcing the more complex technical work required to roll out an Intranet. Aerie's work laid the foundation for The Richards Group to own and manage the Intranet in a sustainable way that engages employees to connect with one another and gain visibility into what's happening across the business.
Sharing news and social content among the whole Richards Group workforce built a new degree of togetherness across departments and offices.
"The social connections our employees made from our new Aerie Intranet meant the site's return on investment literally happened on day one."

Unlock Possibility
Get in touch with one of our experts today to explore the best solution for your business.