Before getting into this topic, I have a challenge for you.
Pull up your laptop and think of a client your company has done business with for at least five years. Get your stopwatch ready…
Find the invoices from April 2016, February 2015, and October 2013. GO!!
[Come back when you're done. I'll wait.]
Okay. How long did this task take you? If it took longer than a minute, your files are probably organized in folders on a server. You had to manually drill down from the top, click into each year, find the "invoice" folder, then search for the month…
Maybe you discovered more than one invoice for the same month. If a billing error occurred, Accounts Payable might've sent a revised invoice. Ugh.
I'm going to help you put this dreadful exercise in the past by explaining how to plan a document management system in SharePoint.
What is a Document Management System?
A Document Management System (DMS) simplifies the way you organize, access, and use your electronic files. Common features of the best systems today include cloud access, fast search capabilities, version control (preventing issues like the duplicate invoice), permissions, and responsive design for multiple devices.
SharePoint and Office 365 offer the most cutting-edge DMS services today.
Here's how to get started:
1. Inventory Your Document Types & Properties
Every successful SharePoint DMS starts with a solid foundation, and that means doing some internal research.
The last thing you want to do is scoop everything up and shove it into a SharePoint library, replicating the mess you already have. You need a way of organizing and classifying the documents you have today. We do this with metadata.
What is Metadata?
Metadata is functional data that helps users understand, find, retrieve and utilize another piece of information. If you've ever shopped for something online – searching for an item based on size, color, brand, price, or other criteria – you have used metadata.
In an office setting, metadata helps you assign attributes to content you want to store and manage, so you can find it quickly without the hassle of rooting through folders and files.
Metadata is organized in columns in SharePoint, each with a certain attribute that applies to the document. These attributes may change over time, as well. A sales report "in progress" will have a different status in a day or two, and that status will determine how the document is searched for and found. By assigning relevant pieces of metadata to the document – like file type, name, last modified by, and other attributes – you increase the number of ways it can be accessed within SharePoint.
The first step is to start categorizing your existing documents, and that means walking down the hall and visiting some colleagues.
2. Start at the Department Level
Each division in your enterprise will share similar needs for document search, data management, and reporting, although the content types may vary. Your task is to investigate which documents and data people use, and what processes they rely on. This insight will help you plan the infrastructure of your DMS, as well as the properties, libraries, lists, permissions, and automation possibilities for workflows.
Document Types
Which documents does each department use the most, and how do their employees describe them? Examples might include proposals, invoices, and purchase orders. Each type should have its own permissions and uses, and you should store them in different libraries based on department.
3. Start Creating Metadata for Your Document Types
Most of the time, each document type will warrant a unique set of metadata. If you are tagging an invoice, you'll want to find it based on a number of factors, including invoice number, vendor, date, service provided, and so on. Deciding what those searchable attributes should be will determine the metadata you will use.
4. Decide Which Properties You Need
Different types of metadata require different fields for entering the data. Do you need a text field? A place to enter dates, or currency? You will use these properties to filter and locate information, and automate form fills, calculations and workflows.
5. Create Metadata Columns
If you want to reuse these metadata columns across your SharePoint platform, you should always create them at the Site Level, not at the Library Level.
6. Define Your Content Types
Organized in groups of columns, content types serve as buckets that store specific document templates and attributes. You'll want to organize your document types under content types to ensure easier scalability and management down the road.
7. Build a Document Library & Add Content Types
Create a document library where your new DMS will live, then you will need to adjust a few settings before adding your custom content types and metadata.
8. Create a Navigation Using Metadata
This last step enables us to use filters to find documents quickly in SharePoint if you are using "term driven pages." This just one way to put metadata to good use.
You can also add refiners to your search pages, mapping the metadata to allow for easy sorting and filtering (similar to Amazon search). Another method is to use the metadata to filter on the libraries themselves.
There you have it. These steps will lead you out the maze of folders and files, and into a system based on intuitive search and flexibility. Ready to get started?
Grab your stopwatch, and GO!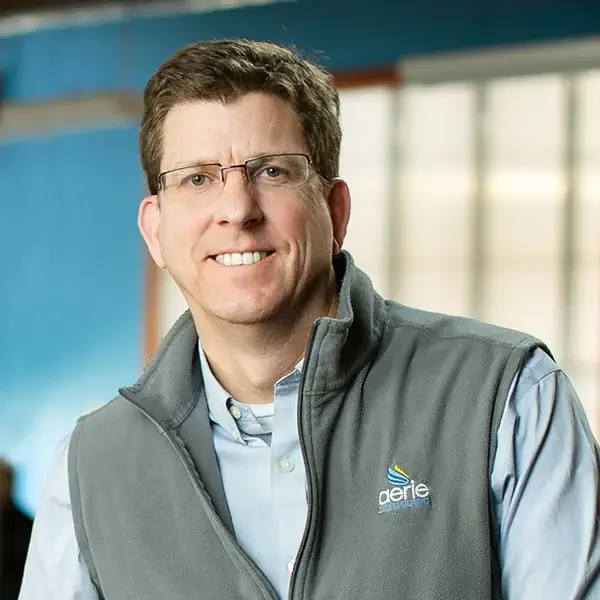 Dave Fisher
Currently based in North Carolina, Dave Fisher, Aerie's founder, plays a variety of critical roles at Aerie, from developing new business and managing client relationships to back-end office logistics. "I try to give our team the tools and atmosphere so they can do what they do best," he says. "I love how every project is unique — and it's fun going to companies, learning what they do, understanding their needs and challenges, then being part of their success."