When business is booming, it can be challenging to find an intranet platform that accommodates growth and fast-paced changes. For more than 200 million people and 200,000 organizations, SharePoint offers a compelling solution.
If your company is interested in streamlining communication and boosting productivity, SharePoint intranet can help push your business to the next level.
Benefits of an Intranet
An intranet is an internal computer network that helps an organization improve collaboration and communication. Rather than using many different incompatible platforms, an intranet keeps team members on the same page.
We all know how difficult it can be to coordinate with different teams spread across the globe—and traditional tools like email and videoconferencing are usually insufficient to bridge the gap. Find information with ease and improve internal communication as your team taps into the potential of an intranet. If you have remote or hybrid employees, an intranet can help connect them from across different time zones.
That's why 100% of businesses with over 10,000 employees use an intranet to simplify their operations. Once your business is above a certain threshold, an intranet is simply a necessity. With the advent of widespread remote work, intranets are increasingly common for small and mid-sized businesses as well.
Why Use Sharepoint Intranet?
With numerous choices—from Workzone to Asana and Smartsheet—it's important to find the right intranet for your company. We firmly believe that SharePoint has everything you need. Plus, virtually every aspect can be customized to fit your industry or organization.
This is a popular opinion: more than 78% of Fortune 500 companies use SharePoint to boost productivity. You're probably curious how SharePoint intranet manages to dominate the market so effectively. While it has many advantages, we believe these are the top five benefits of using SharePoint Intranet.
1. Easy Microsoft Integration
Like most modern companies, you probably already rely on a few Microsoft programs such as Teams, Outlook, and Microsoft 365. Instead of jumping between programs and struggling with compatibility issues, using SharePoint intranet allows you to combine resources and improve employee workflows by using native integration.
You can seamlessly integrate programs like OneDrive, Yammer, Teams, Power BI, and much more. For instance, integrating Power Automate lets your team avoid monotonous administrative tasks like requesting time off. Build easy-to-use custom apps through Power BI and incorporate information-rich data visualizations into your decision-making.
2. Cloud-based Centralized Hub
Because SharePoint intranet is based in the cloud, your team can easily access data with a web browser from anywhere on Earth. Not only does this improve collaboration, it also enhances security by cutting down on vulnerable hardware.
You can rely on SharePoint's cutting-edge security features while groups manage their workspaces with predefined security settings. In general, operating with a single integrated platform reduces vulnerability because there are fewer stress points for hackers to leverage.
It also makes it easier to monitor employee behavior and ensures internal policies are being followed. For instance, you can track when a document is shared, downloaded, or edited to guarantee employees are using best practices.
Of course, cloud computing offers other advantages like scalability, reliable storage, and saving on equipment costs. For example, your company will not have to pay for expensive servers or the immense amount of power required to run them. Budgeting for your intranet is made easy, as SharePoint Intranet absorbs these costs and gives you a consistent flat-rate.
3. Quick Access to Essential Documents
With everything stored in one central intranet, team members can easily access the files they need 24/7. Say goodbye to time-intensive nested folders and physical files.
Boost productivity as employees quickly and efficiently access the information they need to complete their jobs. SharePoint can help improve collaboration for users since it works across devices and operating systems.
You can even leverage SharePoint-based document management systems to increase your company's agility and overall productivity. It's common for HR and legal departments to utilize SharePoint intranet to host onboarding documents, HR guidelines, and legal policies. These processes require countless files; streamlined document management can save thousands of hours for your team.
4. Customization
It's natural to focus on efficiency and cost savings when implementing a company intranet. But there's another surprising benefit that is often overlooked: it helps your employees connect to the company brand.
Most businesses have team members spread across the globe, and SharePoint intranet connects employees so they feel engaged—which is especially important for a remote or hybrid workforce.
SharePoint is incredibly flexible so you can streamline processes while imitating your company branding and culture. For instance, SharePoint can include a "welcome page" customized with an employee's name. It's also easy to incorporate brand colors, customize dashboards for different teams, and filter content based on seniority level.
By customizing your company intranet with thoughtful branding, you can create a comfortable digital environment for your team, increase employee satisfaction, and boost employee effort and productivity.
5. Drive Employee Engagement
Beyond customization, SharePoint intranet has additional features that help your employees feel at home. Build community with Yammer—an "enterprise social network"—that starts conversations within your company.
Yammer works well in combination with Teams to keep employees engaged and increase collaboration. Teams is a one-stop-shop for file sharing and instant messaging.
Although SharePoint intranet doesn't fully function as social media, it offers features like profiles, interests, and job function details. Especially in larger organizations, this helps team members connect on a more personal level, encouraging them to grow together.
There's also a search function so you can connect with specific employees without wasting valuable time. Your team members will appreciate their newfound connections and feel greater company loyalty as a result.
Increase Collaboration and Productivity with SharePoint Intranet
As company intranets become the norm for most businesses, it's vital to understand their benefits. With SharePoint intranet, your team can avoid time-consuming integrations and link other Microsoft programs automatically.
It's also simple to access files from SharePoint's cloud-based hub—saving numerous hours compared to complicated file directories. You can depend on security when transferring files between teams, offices, and continents.
Even better, you can customize SharePoint Intranet to match your brand image. Customization, in addition to programs like Yammer and Teams, will increase employee engagement and boost productivity.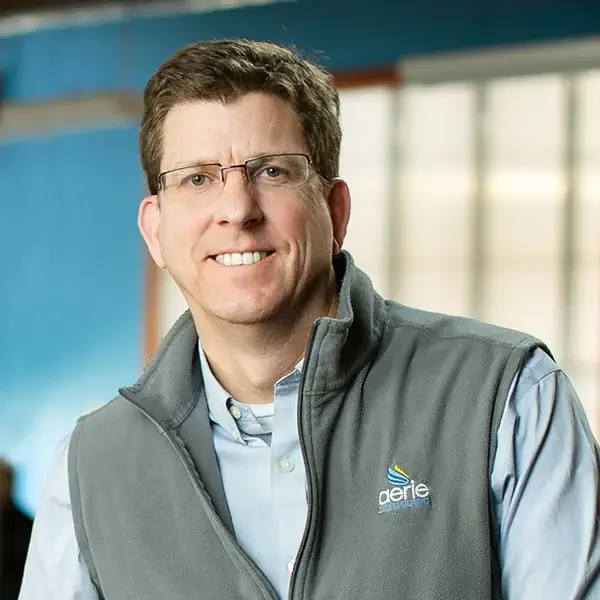 Dave Fisher
Currently based in North Carolina, Dave Fisher, Aerie's founder, plays a variety of critical roles at Aerie, from developing new business and managing client relationships to back-end office logistics. "I try to give our team the tools and atmosphere so they can do what they do best," he says. "I love how every project is unique — and it's fun going to companies, learning what they do, understanding their needs and challenges, then being part of their success."