You've researched the benefits and decided it's time to get down to brass tacks: What does a company intranet cost? There's no easy way to pin down the final cost, but we can share some factors that impact the bottom line when we price out a SharePoint intranet. Most platforms come with a ton of features and capabilities, everything from virtual workspaces to social networks, and it takes time to implement each piece of the puzzle. The amount you'll spend depends on the size of your organization and the capabilities your organization wants and needs.
The costs for intranets we've deployed have ranged from $15,000 for smaller companies to $250,000 or more for much larger ones. That's a wide spectrum for sure, but you can come up with a ballpark estimate for your company by examining three factors: infrastructure costs, deployment/adoption/support costs, and payment options.
Infrastructure Costs
You can't have an intranet without infrastructure. It takes servers and network connections to run an enterprise portal, and the investment you make will depend on how the system is set up and maintained.
Private Clouds – An intranet hosted on premise costs more than a public cloud solution using Office 365 and SharePoint. Some companies prefer on premise servers, or private clouds, because they believe it will give them better data security. This assumption is wrong, and they may spend a lot more because of it. Setting up and maintaining an intranet on premise requires skilled IT technicians that have the time to deal with the upkeep, and most organizations lack the resources for this. A public cloud solution using Office 365 is usually a better option.
Public Cloud – A public cloud is an off-site server your organization connects to via the Internet, and the advantages it offers are significant. Deploying a SharePoint intranet on Office 365 is the fastest, most cost effective solution available today. As an Office 365 subscriber, your company will enjoy the full benefits of Microsoft hosted support, including plenty of storage, speed and data backups. It also offers better data security than most local intranet installations and requires no support from your IT department.
In contrast to on premise solutions, the cost of an infrastructure on Office 365 is minimal. Just pay your annual subscription fee ($5 - $35/month) and you are good to go. A Microsoft Partner, like Aerie, can offer the same rates, but provide better access to support as well as help with migration and customization.
Deployment, Adoption, and Support Costs
The cost of deploying, adopting, and supporting an intranet depends on multiple factors.
Deployment Options – There are several out-of-the-box SharePoint intranets that offer low deployment costs. In addition, SharePoint is a platform that can be used to develop solutions for specific business challenges. Examples include developing a social network for employee communication, or an app that pushes documents through a specific chain of approval. These features can be developed using SharePoint, but each will impact the cost.
Intranet Adoption - Don't overlook the importance of employee adoption of your intranet. At a minimum, employees should be properly trained on how to use the available tools that come with your new intranet.
Support – Once your platform is launched it will need support either in-house or through a specialist outside your organization. If your intranet is successful, your employees will want to add new features and customizations to it, so you should plan on budgeting for improvements and enhancements later on.
Features and customizations are priced according to their value and how complicated they are to implement. A SharePoint consultant will help you prioritize your needs and present the costs for each.
Payment Options - Subscription Fees, or No?
Many companies offer Software-as-a-Service (SaaS), giving your organization an intranet subscription, costing between $5-$35 per user per month. The fees depend on the features included in the software as well as the size and needs of the organization. The subscription "pay-as-you-go-per-employee" model may work well for your business -- it allows you to sign up, flip a switch and connect to an "instant-intranet" -- but you will not own the software and may not be able to customize the platform to your own business processes.
At Aerie Consulting we offer both an SaaS model and one-time fee model for our Accelerated Intranet, our own SharePoint search-based intranet. With the one-time fee approach, your organization pays an up-front cost and the accelerated intranet is deployed either on your private or public cloud. After that, your company owns the platform and can customize it as you want. There are no extra fees for adding users with this approach. Many organizations find this pricing model simpler and more efficient for their needs. It can include intranet design for customizations in the project fee so that all costs are known up front.
Once you have prioritized your business objectives, decided where the portal will be hosted, and determined who will build it, you can figure out what an intranet will cost. The average price for an Accelerated Intranet often runs between $15,000 and $100,000 or more. Even though this is a one-time payment, it's useful to keep in mind that if your platform is successful, you will likely add new applications and customizations over time. Businesses that excel at SharePoint always discover new ways of using its tools, resulting in additional development costs later on. That's a good problem to have, because when employees are working at a higher level, you'll be amazed at how that investment pays off.
Note: This post was originally published in 2016 has been updated for accuracy and comprehensiveness.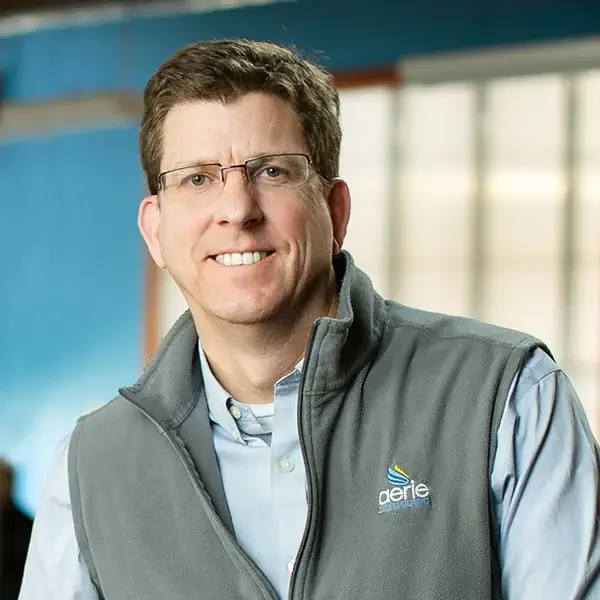 Dave Fisher
Currently based in North Carolina, Dave Fisher, Aerie's founder, plays a variety of critical roles at Aerie, from developing new business and managing client relationships to back-end office logistics. "I try to give our team the tools and atmosphere so they can do what they do best," he says. "I love how every project is unique — and it's fun going to companies, learning what they do, understanding their needs and challenges, then being part of their success."