Everyone has data to worry about, but what good is it if you can't put the information to good use?
Businesses are starting to come to terms with that question. Harnessing fast, accurate business intelligence is essential today, the kind you can't get simply by staring at pivot tables on a spreadsheet, and Power BI is one way to help you get there.
Power BI is a cloud-based business analytics suite provided by Microsoft, helping users pull different data sources into one dashboard where they can extrapolate insights from immersive visuals. From tracking invoices to sales revenue to spending figures, Power BI makes it easy to discover the story behind the data without relying on IT.
If you are thinking about implementing Power BI to connect to your data, you have a few options: the basic free service, the more robust version, Power BI Pro or Power BI Premium enterprise level solution. We'll explain the differences and when it makes sense to upgrade.
Power BI Features
The basic version of Power BI is free. All you have to do is sign up here and enter your business email address, then you will get a message from Microsoft telling you how to start enjoying the benefits of Power BI and its interactive dashboards. The free version comes as a desktop-based app only. You might be surprised, though, at how many essential features the free version includes.
It offers the ability to connect with more than 120 data sources, clean and prepare data with visual tools, analyze and build custom reports with exceptional visualizations and advanced analytics, and easily export to PowerPoint, Excel and CSV.
All of Power BI's features are mobile-responsive as well, with native apps for iOS, Windows, and Android devices, and you can import data from a wide range of sources, including spreadsheets, email marketing providers, and other streams. Reports can be embedded into existing apps or websites.
Streaming Data
With Power BI Pro, you can keep data up-to-date automatically regardless of whether it is on the cloud or on-premise, real-time and streaming data.
Culture of Collaboration
The biggest difference between Power BI Free & Power BI Pro lies in your ability to create and share dashboards with other team members. Power BI Pro users can publish content to app workspaces, share dashboards with other Power BI users and subscribe to dashboards and reports. Power BI Pro also integrates with Microsoft solutions you already use like Office 365, SharePoint and Teams.
Data Capacity & Distribution
For larger organizations, Power BI Premium may be your best option. While Power BI Pro is an individual license, Premium is an enterprise BI platform for everyone in your organization. Premium offers dedicated capacity to deliver more consistent performance and support larger data volumes in Power BI. For individual users, Premium also enables widespread distribution of content by Pro users without requiring per-user licenses for recipients viewing the content. You'll be able to publish datasets up to 10 GB and refresh up to 48x per day.
You really can't go wrong with either choice. If the basic software is not enough for your needs, you can upgrade easily. In most cases, it's good to start with the free version and get familiar with the features before moving to the enterprise level. Microsoft also offers a 60 day trial for Power BI Pro, so you can always take it for a spin and see if it's worth the investment.
Power BI Apps
With the impending deprecation of Content Packs, Power BI has introduced Apps, to deploy a collection of related dashboards and reports to a wider audience, empowering more individuals to make data-driven decisions. Apps offer a way to group several dashboards and reports into a single workspace. Unlike Content Packs which lose their grouped identity once published, Apps maintain their grouping and identity even after installation. This facilitates navigation over time. App producers can give permissions to specific individuals to be installed automatically or can send a link to the App. Data updates automatically to the dashboards and reports within the app. This feature is only available for Power BI Pro users.
As an important component of the Office 365 suite, Power BI is constantly evolving with the needs of business. It integrates well with other key Microsoft apps, allowing seamless collaboration between groups without jumping from one platform to the next. Regardless of which version you choose, you will finally have a conduit to real business intelligence, offering insights that will help you make smarter decisions and ensure the future health of your company, and that is always worth celebrating.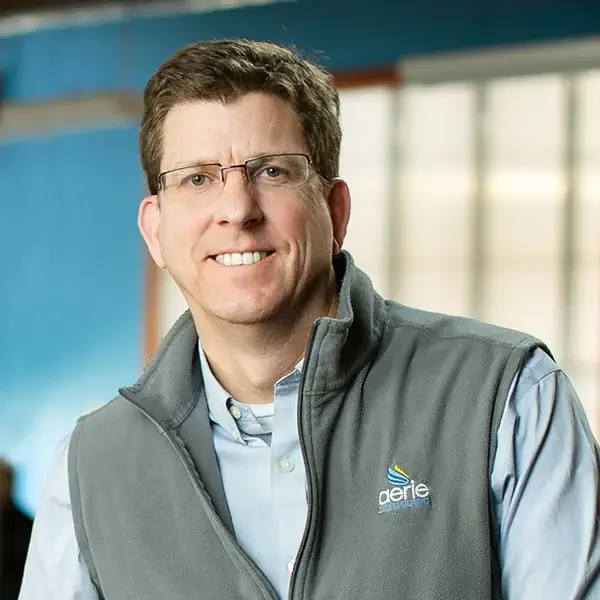 Dave Fisher
Currently based in North Carolina, Dave Fisher, Aerie's founder, plays a variety of critical roles at Aerie, from developing new business and managing client relationships to back-end office logistics. "I try to give our team the tools and atmosphere so they can do what they do best," he says. "I love how every project is unique — and it's fun going to companies, learning what they do, understanding their needs and challenges, then being part of their success."