We've all spent too much time trying to decipher reports that make no sense at first glance, or had team members who struggled to share essential business insights with clients in an accessible and concise way.
To help make your team's efforts shine—and to understand the mountains of data generated by your business every hour, day, and quarter—your organization needs a strong data visualization strategy. Fortunately, there are several options that promise to reshape your B2B business's approach.
Data visualization tools that we'll cover include:
Datawrapper
Qlik Sense
Google Charts
Tableau
Microsoft Power BI
Let's take a closer look at these top 5 data visualization tools, and compare pros, cons, and price points.
Data Visualization Tools
All the following tools have the same goal in mind: to turn a flood of numbers and data points into easily understandable graphs, images, and tables. The field of data visualization is all about using the power of bespoke applications and AI tools to help your workforce stay informed, track connections, and make decisions.
Data visualization can help reduce confusion and miscommunication within your organization, as it makes information easier to access and share. For B2B businesses, this not only means a better internal workflow, but also improved efficiency when closely collaborating with clients and other businesses.
1. Datawrapper
Datawrapper is a great tool for any business, but its primary user base of journalists and publishers prize it for its clean and simple user interface. With no coding experience necessary, it allows even free users to create charts and maps directly in the browser.
However, there are some restrictions. Datawrapper only lets you upload .csv, .tsv, or .txt files with up to 500 rows and one sheet of data at a time, and available chart types are limited to line, bar, area, column, pie, and scatter charts.
The free option is powerful, but organizations that want custom white-label branding, SVG, and PDF export and unwatermarked visualizations will need to use the Custom tier, which starts at $599/month, or $5,990/year. There is also an Enterprise option with customizable features and variable pricing available.
2. Qlik Sense
With a wide range of features, Qlik Sense is great for customizing your data and presentation. It includes analytics, business intelligence, and enterprise reporting. One of Qlik Sense's most popular features is its ability to easily combine data sources into one report or visualization.
Many other tools restrict users to only certain sets or sources of data, so Qlik Sense's flexibility is a benefit. Beyond data visualization, Qlik Sense is a data discovery platform that lets users make faster, more informed decisions with accelerated analytics, frequently updated business designs, and improved search result accuracy.
The platform lets users create color coded tables, bar charts, line graphs, pie charts, and sliders, with an easy to use "drag and drop" visual interface and interactive smart visualizations. With no coding needed, Qlik Sense is easy to get your whole team on board. A business license starts at $30/user/month, with an Enterprise option available after a consultation.
3. Google Charts
Thanks to its integration with the Google Suite of tools, Google Charts is probably the most beginner friendly tool on this list. While its exclusive focus on charts may seem limited when compared to other tools, Google Charts is still quite flexible and adaptable. Users can present their data in a wide range of chart formats, so you'll always be able to find the right fit.
If you need website users to have access to important data, or you present essential data to current business customers, this tool can be a great way to simplify sharing information. Users can easily interact with and create local copies of Google Charts, especially if they already make use of other Google tools. It isn't as feature-rich as its competitors, but Google Charts is free for personal and organizational use.
4. Tableau
One of the most popular tools in the field, Tableau is integrated into the Salesforce suite of applications. Because it is so flexible, Tableau is ideal for large data sets or constantly changing data, because it allows you to connect to different sources and synthesize them into interactive graphs, charts, and maps.
This versatility can make the tool difficult to grasp at first. It can be time consuming to learn the interface and import your datasets at the start. For this reason, Tableau mainly advertises itself to corporate environments with data engineers and bigger budgets. It also has an overall greater monthly cost.
Although pricing is flexible depending on features used, Creator licenses (which let you connect your data, build "vizzes," and publish dashboards) are $70/user/month and Viewer licenses (which offer no editing or creation features) are $15/user/month. For $42/user/month, an Explorer license lets you edit existing dashboards. This can easily add up for a whole organization, but Tableau does offer inexpensive eLearner licenses and a free limited version of its paid desktop tool, Tableau Public.
5. Microsoft Power BI
Last but not least, our personal favorite data visualization tool is Microsoft Power BI. B2B organizations can take advantage of its reporting, self-service analytics, and predictive analytics, as well as its focus on business intelligence data.
Power BI provides an end-user platform to create reports and share insights with others in your organization, easily integrating with other Microsoft programs such as Teams and Office 365. This integration also extends to other SaaS products like Google Analytics and MailChimp. Power BI can also act as a centralized repository for business data, offering secure gated access to business users from both inside and outside your organization.
Power BI is designed for creating and generating reports, with key features such as data modeling, insights, and an AI-powered Q&A tool. Best of all, a Power BI Pro license starts at just $10/user/month, and a Premium license at $20/user/month. There is also a Free license available, which Microsoft describes as a "personal sandbox" to test out creative and interactive features, without options for sharing or publishing.
Grow Business Insights with Data Visualization Tools
Data visualization software ranges from pinpointed, specific use cases to flexible tools that can completely overhaul your analytic approach. Regardless of the tool your organization chooses to use, getting your team on board with data visualization will make communication simpler, business insights clearer, and collaboration easier.
A Microsoft consultant can help integrate Power BI into your current system and even offer training workshops to help you get the most of the program as you bring your team up to speed. Learn more about how you can take your data reporting and analysis to the next level by scheduling a consultation or checking out our free data visualization guide below.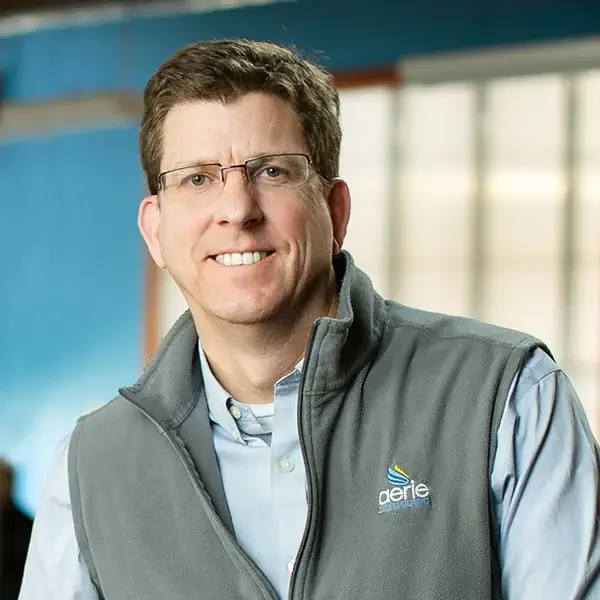 Dave Fisher
Currently based in North Carolina, Dave Fisher, Aerie's founder, plays a variety of critical roles at Aerie, from developing new business and managing client relationships to back-end office logistics. "I try to give our team the tools and atmosphere so they can do what they do best," he says. "I love how every project is unique — and it's fun going to companies, learning what they do, understanding their needs and challenges, then being part of their success."